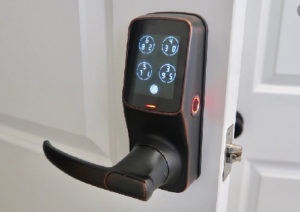 If you're looking for the most up-to-date lock security, check out the Lockly Secure line of locks for your Katahdin Cedar Log Home. These locks feature ingenious security measures that are great for household as well as rental property applications.
Unlock with Just a Touch
Lockly's fingerprint ID feature allows homeowners to program access with a fingerprint—just like security on your smart devices. Like your smartphone, you can add and manage fingerprints on your smart phone with the Lockly app.
No Peek Keypad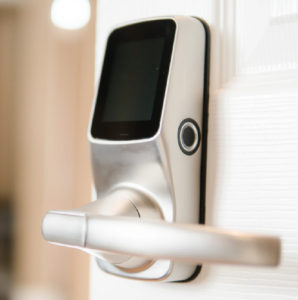 Lockly's other ingenious innovation is the Pin Genie Keypad. It rearranges the keypad numbers in unique combinations each time to avoid deciphering an access code from watching the keys being pressed by their position on a standard keyboard.
Access Codes
Lockly's Secure locks offer one-time temporary key codes and offline access codes to control entry and monitor visitors. Send an access code to a repairman or cleaning service to allow entry when you decide.
Lock and Unlock Remotely
Using your smartphone Lockly app, you can lock and unlock your home remotely. The app also tracks entries and exits and identifies entries based on fingerprints and code data, with real-time alerts each time the lock is accessed.
Secure Link Wi-Fi Hub
The Wi-Fi hub that's included with Lockly locks also provides a voice control interface with your smart home assistant through Google and Alexa. This allows you to operate the lock using just your voice, when guests arrive, or deliveries are made.
Pick Your Finish and Style
Lockly locks are available in three finishes: satin nickle, venetian bronze and matte black. The locks are offered in a latch style with handle or a deadbolt style to be paired with existing door handle hardware.