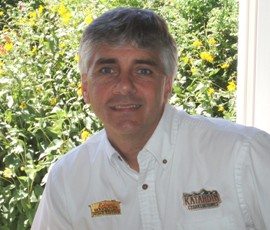 Welcome!
Thank you for considering Katahdin Cedar Log Homes for your own log home. We hope that we'll be able to export a little of our Maine craftsmanship and share the beauty of our Cedar log homes with you and your family.
Second-generation family business
From the time my father sent me out to learn how to hand peel cedar logs, I've always known we had something special here in the North Woods. Over the years, our team has worked hard to develop innovations that make Katahdin Cedar Log Homes the best-easier to build, more energy efficient, well-designed and beautiful. Just because we think it's pretty good, doesn't mean we stop trying to improve.
Building green
We've also taken some fairly radical measures to make sure we are building and manufacturing "green" – not only with our home designs, but at our mill. We recycle our waste wood into steam heat with a state-of-the-art industrial biomass boiler, and buy our Northern White Cedar from nearby sustainable forests. Cedar we can't use as wall logs in our houses is milled into attractive fencing, railings, decking, siding or trim. We're not fond of wasting anything here.
Giving back to our community
When we have an opportunity to make a difference in the community, we take it. Whether it's hosting woodworking and architecture students from a regional technical school, building a brand new home for a deserving family as part of Extreme Makeover: Home Edition, or supporting our dealers' charitable projects, it's important to share some of the good fortune with which we've been graced. In 1999, Katahdin received the Maine Governor's award recognizing our environmentally friendly business practices and our contributions to local communities.
I hope you'll find the answers you're looking for here on our website. If you don't, please let us know and we'll try to find the answer for you as quickly as possible. And, if you should find yourself in the great State of Maine, please let us know and we'll be glad to give you a tour.
Sincerely,
David Gordon
President and CEO