Our in-house design team has undergone tremendous growth and change in the past two years-to make the custom designed Katahdin Cedar Log Home of your dreams a reality. In the past ten years the size and complexity of our log homes has increased, nearly doubling the average set of plans. So we set out in 2005 to create a state-of-the-art design system to make the process as accurate and efficient as possible. And we've overcome these challenges to develop an in-house design team that is always striving to exceed expectations.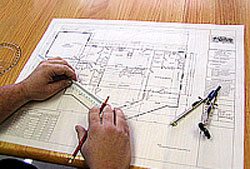 Top CAD architectural designers – We've looked far and wide to add talent to our skilled team. We hired designers with three dimensional modeling experience, estimators, and expanded our design department to meet our growing needs.
Software and hardware upgrades – In 2006 we installed a new, sophisticated software program, called Architectural Desktop Project Navigator, to produce preliminary and final plans more efficiently, accurately and quickly. This new software has enabled us to meet the growing demand for custom log home designs.
Improved communication – Gone are the days when a quick phone call and a little yellow sticky note was all you needed to make a design change. Today, our business has become too fast-paced and detail-oriented to continue this approach. Making sure that your ideas are translated into plans quickly and accurately was an important human factor element to our design equation. Katahdin has worked long hours to ensure that the flow of communication between you, your dealer and the designers are as seamless as the design software.
Custom design for the same price as standard drawings – Because nearly all of the Katahdin Cedar Log Homes we build are either partially or fully custom designs, we don't charge extra for plans. We feel it's more important for you to realize your dreams, just the way you envision them.