Maintaining a Katahdin Cedar Log Home is simple. With a cedar log containing less moisture than a traditional pine log, maintaining your log home needs less attention leaving you more time to enjoy log home living and the reason you choose a cedar log home.
Ask a Log Home Expert – Ever had a question about a log home you thought too silly to ask? Ever wonder about a specific construction tidbit but were afraid to ask? Would you like to discuss your log home desires with a real person before committing to a meeting? Use the contact form today and simply add your comments or questions in the space provided and one of our log home experts will be in touch. At the end of the day, a great product, great customer support and that personal touch that trained professional log home builders of Katahdin deliver really do make us stand apart from the crowd. Contact us Today.
Upkeep Made Simple
Maintaining your Katahdin Cedar Log Home is simple. The Northern White Cedar we use for construction does most of the work for you. Cedar contains a natural insect repellent. Its low water content and strong wood fibers help cedar maintain its beauty and integrity under the harshest conditions. We feel so strongly about the quality of our cedar log homes that we offer a 25-year guarantee.
There are steps to take during construction and each year thereafter that can keep your log home in tip-top shape.
Finishes – The first step to maintaining the exterior of your home happens before its even completed.
Cedar vs. Pine – Cedar is one of the finest natural materials to build a log home for a number of scientific reasons.
Landscaping – Katahdin cedar fencing continues the look, feel and low maintenance of your home with a wide variety of styles to select from.
Finishes
Stains and Topcoats Protect Your Investment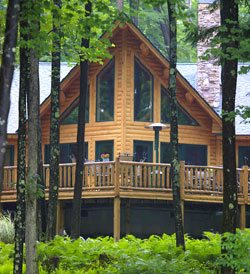 Stains and Topcoats Protect Your Investment – Stains and topcoats protect your home from damage by the sun's ultraviolet (UV) rays. The sun and weather can break down the cellular fibers that make up the wood in your log home. To protect your cedar log home, apply stain and two top coats to filter the UV rays and keep off the elements. While there are many good products available to today's log home owner, Katahdin Cedar Log Homes has had great success with the water-based products of Perma-Chink Systems for stains, topcoats and maintenance products, which are available at a discount through your Katahdin Dealer.
Cedar makes it easy – Because Katahdin's Northern White Cedar logs have such a low moisture content when they leave the mill – an average of 14 percent – there's no need to allow for the logs to dry as required by other wood species. Some high water content species, such as pine, require six months to a year to dry before stain can be applied. That adds up to a lot of weathering and UV damage before you even get the stain on!
Apply stain early for best results – The best time to apply stain and topcoats is during construction, once the roof is completed and the trim boards are up. Your builder will have the equipment and personnel to accomplish a professional application of exterior stain at that time.
Always apply stain first – Never apply a clear topcoat on bare wood. A semi-transparent stain allows the natural grain and knots of the wood to show through while protecting the wood.
Always use topcoats over stain – The stain protects the bare cedar log from ultraviolet light damage, topcoats protects the stain. With regular inspections, you'll only need to maintain the topcoat.
Darker stains provide more protection – Like a high number on sunscreen, darker pigments protect the wood. The one exception to this is the "butternut" color, which has a high level of white pigment. Many homeowners choose this lighter stain for a more "natural" wood look.
Stain application is a two-step process – For the most professional results, stain is applied with a spray attachment along the complete length of a log. Back brushing is recommended when spraying. For the do-it-yourself homeowner, dipping and brushing along the length of the log is also an effective application, with great results.
Maintenance is easy – Once or twice a year, depending on your location, you'll need to inspect your home, much like you'd inspect your furnace or clean your chimney. Detailed instructions for annual maintenance are included in your Builder's Manual. Katahdin makes it even easier to keep a schedule with our Automated Maintenance Reminders. When you order Perma Chink products from Katahdin Cedar Log Homes, we'll send you a yearly reminder about your maintenance.
Perma-Chink Manufacturer's Warranty – If your stain is applied properly and includes two topcoats, Perma-Chink Systems provides a 5-year warranty for its stains and topcoats. To learn more about the warranty or to purchase products, please contact your Katahdin Dealer or info@katahdincedarloghomes.com.
Cedar vs. Pine
When it comes to maintenance, choosing cedar over pine can save you time and effort in the long run. Northern White Cedar (Thuja occidentalis) provides many maintenance advantages over pine when used to construct log homes.
Rot Resistance & Insects
Northern White Cedar naturally produces preservatives that make it one of the most decay, rot and insect resistant wood species. Because of this natural resistance, you'll reduce the need for harsh and expensive chemical treatments to protect your home from damaging insects or moisture.
Pine is not naturally resistant to rot or insects, and requires treatment with chemicals on a regular basis to discourage invasion from pests or deterioration from rot or decay.
Water Content
Northern White Cedar is naturally low in moisture. Because of this characteristic, most of the time Katahdin is able to naturally air dry its cedar logs to a desirable 14-16 percent moisture level when it leaves the mill. When outdoor humidity is high, they will sometimes use a finishing kiln to maintain a consistently low log moisture content. This ideal moisture content allows homeowners to stain their homes at the time of construction. As a result, the stain and topcoat can provide maximum protection from the start and early application keeps ongoing maintenance easy.
Green pine contains more than twice the water content than green cedar does. Pine is usually dried in a kiln to fix the sap and kill insects inside the logs. Despite the high heat drying, many pine log homes must be allowed to "breathe" for up to six months to further reduce internal moisture content before a stain and topcoat can be applied. This exposes the untreated wood to the elements for a considerable time before a protective stain layer can be applied. Ultimately because of its composition, pine requires much more stain maintenance.
Landscaping for Log Home Living
Here at Katahdin Cedar Log Homes, we use every bit of the cedar logs we harvest. One of the products we mill ourselves is our Katahdin Cedar Fencing. Northern White Cedar is an ideal wood to use for fencing as it resists rot, insects and cracking over long periods of time.
How We Make Fencing
The raw logs are transported to the slasher, where the operator carefully grades each length for maximum use. Those lengths deemed best for fencing are transported to the mills where we cut lengths of six, eight and ten feet. Then, like the other cedar stock we use in homes, the rough wood is stacked. From these smaller pieces, we mill our fencing. Several fencing styles are available:
Privacy panels, often called stockade fencing
Spaced panels, or picket fencing. Pickets may be finished in several ways
Post and rail fencing featuring rounded logs
Round and square posts
Post caps, which provide a decorative finish to square posts
Commercial Fencing
Most of our fencing is produced at a commercial grade, which is re-sold to fencing companies throughout the Northeast. These companies then add their own flourishes and designs to complete the fence product. As the panels and other components are completed, they are covered with a UV protective barrier until they are shipped.
Log Home Landscaping with Katahdin Cedar Fencing
Like other "hardscape" components to your yard -including mature trees, patios, walkways, stone walls- Katahdin Cedar Fencing can prove a visual frame for your flowers and shrubs. Cedar fencing is a good choice for the same reasons you selected cedar for your home: beauty, durability, and resistance to rot and insects. For more information about Katahdin Cedar Fencing products for your home, please contact us at info@katahdincedarloghomes.com.
Our Turnkey Solution makes owning a luxury cedar log home a simple 7 step process, turning your dream into reality. To learn more about the 7 Steps of Cedar Log Home ownership, please review The Katahdin Difference section of this web site.