Many of our customers contract with their Katahdin Dealer and/or builder to build their Katahdin Cedar Log Home. They are experienced in log home construction and work regularly with local craftsmen and subcontractors.
However, many of our customers like the challenge of building their own log home. If you enjoy the do-it-yourself lifestyle and would like to save a little money, you'll find that Katahdin has the resources to assist you from budgeting to completion. In fact, we're nationally recognized for our training and support!
Factors to consider when building a log home yourself
How long does it take to build a log home? – The answer depends on a number of influences not limited to the design of your home, weather, the site, and the experience of the construction workers.
Estimating labor – We generally estimate one man-hour per square foot of floor space for a purlin style home. The time estimate is less – three-quarters of an hour- for truss-type homes.
Establishing a budget -To estimate the cost of your completed Katahdin Cedar Log Home, you'll need to consult with local contractors and suppliers for heating and cooling, electrical, appliances and fixtures, foundation work and other essential items. Add in your carpentry and construction costs, your land and the price of the package and you'll be able to set your budget.
Delivery of your log home
Delivery lead time – Plan on four to six weeks from the time you place your order to delivery, depending on the time of year. Be sure to coordinate your schedule so that we can deliver your home when you are ready for it.
Access to your site – When planning your infrastructure, keep in mind that our tractor trailers need wide, fairly straight roads to reach your site.
Unloading – Make sure you have your work crew scheduled to be on site when your home is delivered. Check with your dealer to determine the kind of equipment and workmen you'll need on hand to unload your particular design.
Typical log home assembly
Pre-cut and drilled in our mills – We are able to save time and on-site cutting by pre-cutting and pre-drilling each log on our state of the art house line so that they interlock and provide a solid fit.
Optional insulation package – To increase the natural R-factor of Northern White Cedar, we offer an insulation package at no extra charge. An added benefit of this insulation package is the ability to run electrical wires without the need for on site drilling in the log walls resulting in substantial savings.
Log facing styles – Whether it's a hand-peeled look you prefer or the consistent look of milled finishes, or even a clapboard style of log, Katahdin has a number of different looks to choose from.
Log Assembly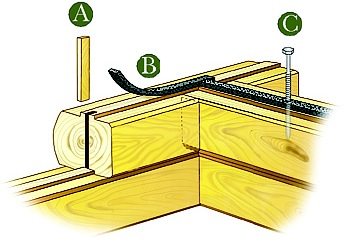 A – End joint sealed and aligned with 3/4″ X 1 1/4″ wood splines
B – PVC foam seal strip between all logs
C – Lag Screw at approximately 2′ – 3′ on center
Optional Insulation Package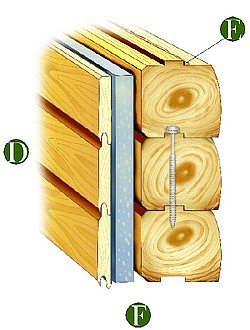 D – Tongue and groove cedar interior wall
E – Caulking at outside edge of tongue
F – 1 inch Styrofoam insulation