Katahdin Cedar Log Homes are "Green"
Katahdin shares your interest in the outdoors. Protecting our natural environment has always been one of our core values. Yet, many people don't consider the "green" aspects of their log home. There are many ways a Katahdin Cedar Log Home can be built to save you energy – and money – without sacrificing the features you want in your home.
Materials make a green difference!
Nearby sustainability. Katahdin selects Northern White Cedar trees found within about a 100-mile radius from our mills in Oakfield, Maine. This allows us to save fuel before the logs arrive in the yard. And, where possible we use logs harvested from certified sustainable forests.
Easily renewable. Northern White Cedar is a renewable resource that is actively managed to ensure biodiversity, wildlife habitat and high-quality forest products. Other species used in log homes, such as pine, are often grown on plantations, which require large amounts of energy to plant seedlings and prepare the ground, as well as requiring phosphate fertilizers and insecticides. Cedar has its own natural defenses for insects.
Cedar wins the R-value comparison. Cedar has considerably higher thermal mass and R-values than pine, so you'll save energy by requiring less to heat and cool your log home.
Chem-free Living in a Katahdin Home
Naturally insect resistant. Because of cedar's natural resistance to insects and rot, Katahdin Cedar Log Homes don't require treatments for insects or rot prevention.
Water based stains are environmentally friendly. We've had great success with water-based biodegradable stains, topcoats and other finishing products from producers such as Perma-Chink.
Avoid treated woods. Because cedar is naturally rot resistant, decks and porches don't need to be made with chemical, metal or pressure-treated wood.
Katahdin designs easily adapt to alternative energy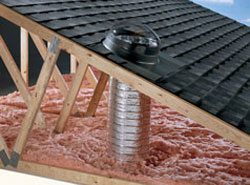 Designing for passive solar. We've learned that simple things like adding the right kind and amount of windows, paying attention to southerly orientation and calculating porch overhangs can provide simple money-saving solutions.
Solar panels, wind power or solar storage. No matter what form of alternative energy you are considering, your Katahdin Dealer can assist you in identifying the best solution for you. He or she also can identify possible tax and rebate advantages that might be available for your area.
Katahdin's insulation package. We offer an insulation package that maintains the desirable interior look of log walls, without adding any extra cost to your package.