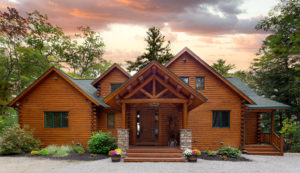 A new decade means charting a new course to your new Katahdin Cedar Log Home. This eventful educational journey can often get a jumpstart by attending one of the several log home events offered each year. No matter which event you choose, these shows are a great way to compare and contrast log home manufacturers, styles and options under one roof. You'll learn about Katahdin's dedication to quality, efficiency and great design—there's always something new!
Don't Forget Katahdin's Log Home Events!
Our famous Logapalooza events have drawn attendees from near and far to spend the weekend learning about Katahdin's dedication to quality and energy efficiency. These log home events feature tours of multiple beautiful log homes that will bring different styles and ideas to life. Regional Open House events, hosted by our experienced dealers, are also a great way to experience a Katahdin Cedar Log Home in your area.
A visit to our beautiful Katahdin booth or open house event gives you a chance to see more about what makes our approach unique, including our commitment to energy efficiency and complete custom-designed log home packages. Take a moment to check out these log home shows and stay tuned for more event updates here.
Jan 24-26              Columbus OH Log & Timber Home Show & University
Feb 21-23              Kansas City MO Log & Timber Home Show & University
Feb 28- Mar 1       Burlington VT Log & Timber Home Show & University
Mar 7-8                 Atlanta GA Log & Timber Home Show & University
Apr 3-5                 Roanoke VA Log & Timber Home Show & University
May 1-3                Lake George NY Log & Timber Home Show & University