Good ventilation is an essential component of a well-designed bathroom. Because Katahdin Cedar Log Homes are well-sealed, it's important to ensure moist, warm air is ventilated out of your bathrooms. There's some great new ventilation technology that can keep your bath nice and dry all year round.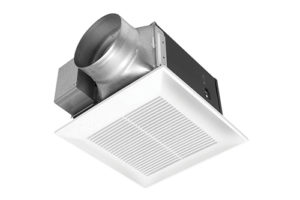 Panasonic Whisper Ceiling Fan
Available in several models that feature varying sizes and cubic feet per minute CFM flow rates. Their Q3 Whisper Ceiling 290 CFM unit is ideal for quiet exhaust for larger bath areas. The fan is Energy Star Certified and suitable for installation over a shower.
Akicon Ultra Quiet Ventilation Fan
This Energy Star rated and HVI certified fan offers super quiet noise levels of 0.8 sone.  Sized right for the average bath, Akicon's Ultra Quiet Ventilation Fan has a 110 CFM flow and galvanized steel and sealed motor for continuous operation. It uses two 14 watt LEDs for extra lighting.
Delta Breez Green Builder 80 CFM Exhaust Fan
This Delta Breez model ventilation fan uses 86% less energy than a typical bath fan. It features a built-in humidity sensor, which turns on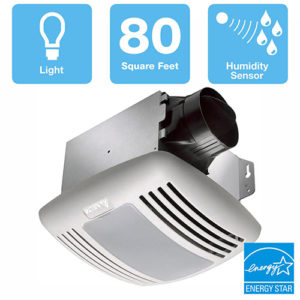 automatically when it senses high humidity levels. For many homes this is a great feature, since bath fans only work when they're turned on. The company's website offers a sizing tool to help specify the right sized fan.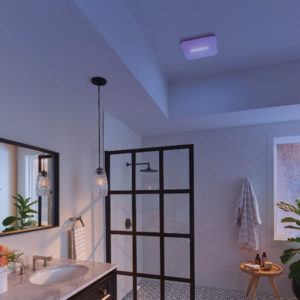 Broan Surface Shield Vital Vio® Exhaust Fan
Coming in early 2020, this Broan Vital Vio® bathroom fan features an LED light that kills surface bacteria in the bathroom, a great feature for this humidity prone environment. The unit will feature 110 CFM fan to provide an effective guard against mold, bacteria and fungal growth. Quiet operation at 1.0 sones.
Your selection of a bath ventilation fan will depend on the size of the room and other personal needs for moisture and humidity removal.