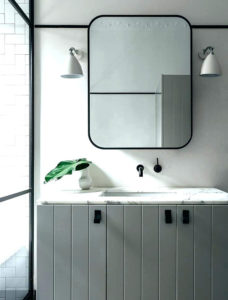 Looking for fresh ideas for your new Katahdin Cedar Log Home bathrooms? Here are five top trends for the coming years.
Rounded Rectangle Mirrors
This is an idea that seems to meld well with the linear effects of log walls. Whether it's a pair of  tall thin rectangles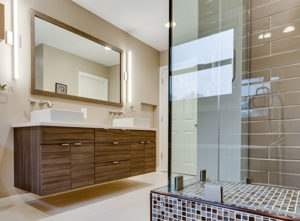 with rounded corners or a wide single mirror, rounded corners are a subtle style touch that will remain timeless.
Wall Hung Fixtures
Whether it's a floating vanity or a wall hung toilet, freeing up floor space is the sleek trend now. You'll be able to emphasize your beautiful floor selection and give your bathroom an ethereal floating feeling.
Console Vanities
These are the minimalist version of a traditional vanity. With bars for towels and perhaps a lower shelf for towels and supplies, these consoles come in a myriad of styles, sizes and materials. We love the look of wrought iron or brass for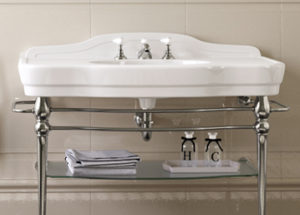 your log home bath. Consider the console for a guest bath or half bath where you'll require less storage.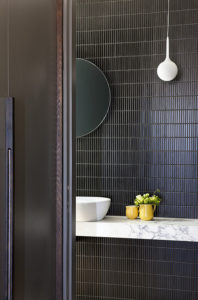 Skinny Tiles
This riff on subway tiles can take your bathroom to new heights with a strong vertical orientation. These skinny glass tiles add texture to smooth tile surfaces. In log homes, it can be a great counterbalance to dominant horizontal themes.
Marble
It's not just for your kitchen anymore. Use striking marble patterns as a backsplash wall in bathrooms with pedestal sinks. Using a bold marble pattern can elevate the drama in your master bath and provide an elegant, dynamic focal point in any bath area. While using marble in the entirety of the bathroom may be costly, adding a bold marble pattern can create a great focal point.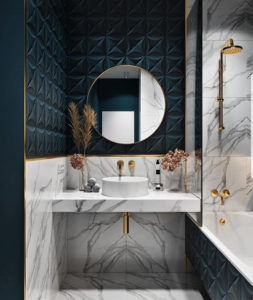 These ideas can add a lively, fresh look in your new bathrooms. See which one might work for your style!