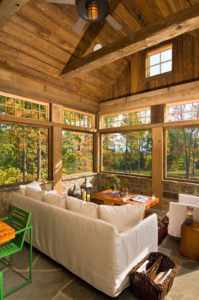 One relatively inexpensive upgrade to your Katahdin Cedar Log Home to consider is the three- season porch. Three season porches add bonus living space without breaking the budget. By closing in part or all of your home's outdoor deck or terrace, you'll be able to enjoy the outdoors in style! Here are the top five benefits of adding a three-season porch:
Added Living Space
By enclosing your porch space, you're expanding your living space with a new functional, comfortable room that acts like a transition between inside and outside. Frame your three-season porch with a small knee rail and install windows. You won't need to invest in thermal panes because you're not creating a year-round space. Pick window panels that pop out and can be replaced with screen panels when the temperatures rise. Or check out these windows with built-in retractable screens for an innovative porch design.
Enhanced Efficiency with Passive Solar Effects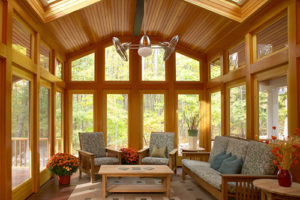 Situate your three season porch around a north facing entrance to your home, and the space can act as a buffer from winter cold.  On sunny winter days, the porch will warm even on the coldest days and keep freezing outside cold air from crossing the threshold into the home interior. This greenhouse effect will allow your furnace to run less with the added layer of insulating warm air. In summertime, the northerly porch will be a cool retreat for summer evenings.
Expands Your View
As much as we emphasize windows and beautiful views in a Katahdin Cedar Log Home, there's nothing like being surrounded on all sides with your three season porch. Depending on the elevations around your home, a three-season porch can feel like a tree house hideaway or a summer living room that places you in natural surroundings while maintaining a comfort from spring to fall.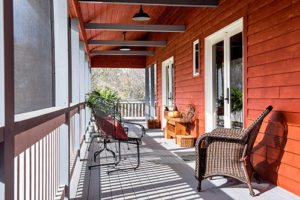 Shelter from the Elements
Who hasn't planned an outdoor get together that's been disrupted by bad weather? If a storm comes up on your weekend party, you'll have a sheltered retreat for guests. If the three-season porch is part of a covered deck area, it will provide a shady retreat from the summer sun, with great cross air flow through screens.
Insect Free Outdoor Living
Whether it's firing up the grill or hosting neighbors for a cocktail party, your screened-in porch will keep mosquitos and other stinging insects at bay. You can avoid the need for unpleasant insecticides or foggers to keep your family and guests comfortable while enjoying outdoor entertaining.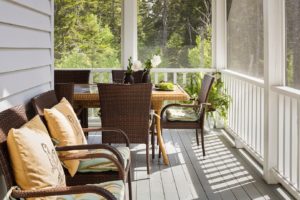 Whether it's simple or elaborate, a three-season porch will elevate your home's outdoor experience and save energy in the winter heating season.