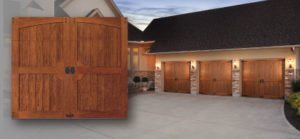 How much difference can an insulated garage door make? Plenty! Investing in an insulated garage door can make the temperature as much as 10-12 degrees different than the outside. This provides a big advantage in the wintertime, when cold temperatures can keep your car from starting and your home's heating and cooling needs to work just a little harder. Here are five reasons we think insulated garage doors are a good idea:
Buffer Zones: Insulating your home's buffer zones keep living areas warmer (or cooler). Garages don't have the same strict efficiency codes, and sometimes they're not sealed well. But keeping the garage area more insulated creates a buffer zone for areas immediately off the garage, including living spaces located above the garage.
More Comfort: Most people do other things besides park vehicles in their garages, including home repair projects, hobby workshops, storage for lawn mowers and snow blowers, and excess clothing, and holiday decorations. Insulated garage doors make garages more comfortable for humans and their furry friends alike.
Your Automobile: If it gets really cold where you live, an insulated garage door can mean as much as 10-12 degrees warmer. This can be the difference when you need your car to start reliably every day. A colder environment shortens battery life, lowers air pressure in tires and may cause unreliable sparking in your engine.
Improved Durability: Insulated garage doors are manufactured to last long and use different materials and construction for the completed product.
Quieter Performance: It may not sound like much, but a quieter garage can mean less noise disturbance in adjacent living areas.
Insulated garage doors are available with varying R-values and may be constructed of fiberglass, wood composite or steel. If you plan to include a window feature check to see that a double-paned glass is maintaining the insulation profile of your garage doors. Like any barrier component, insulated garage doors should fit the door openings and not have gaps or cracks that can affect performance once installed.