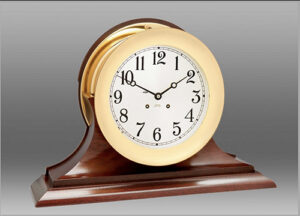 Smartphones have taken on the role of time for many of us, yet the beauty of a traditional clock can enhance any room in your Katahdin Cedar Log Home. When choosing a clock for a specific space you'll need to look at several aspects.
Visibility
Is the clock meant to be seen only while illuminated or is it needed for a night time reference point? For folks with less than perfect sight, choosing a clock with clear distinction between the numbers and background can make a big difference in reading from across the room. At night, glowing numbers or a ceiling projection of the time are also good for guest rooms.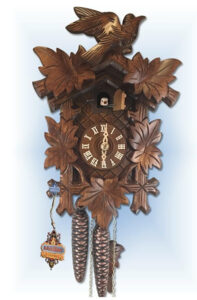 Sounds
Clocks can be as silent or as musical as you desire. For centuries, clocks created sounds using bells, chimes, whistles and musical phrases. Clocks can often produce only the ticking sound of each second passing, which can sometimes be quite loud in a quiet room. Clocks also use sounds to announce the time, often in codes. For example, sailors understand the chimes of the watch clock, which chimes the time using a series of chimes based on a four-hour watch system. One bell equates with one, five, or nine o'clock; four bells corresponds with four, eight and twelve o'clock. It takes a bit to get used to but can be a pleasing sound.
Other more traditional clocks use familiar sounds replicating other famous clocks, like Westminster in England. These types of clocks were often wedding anniversary presents and may also be encased in a glass bell, with manual winding.
Design Appeal
Clocks can also add design interest for mantles, walls, and even as furniture, such as case or "grandfather" clocks. If your family has an heirloom clock this can occupy a place of prominence to ensure others can enjoy its beauty. Old fashioned case clocks require manual winding, but many modern versions come with battery or electric operation.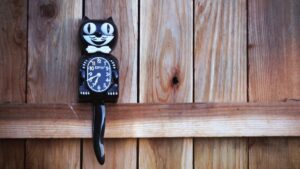 Clock Whimsey
Children are often fascinated by clocks and they can be a great way to teaching time and clock reading. One classic clock that can offer a fun twist on time is a cuckoo clock. Wall hung cuckoo clocks are common in Germany and use pine cone shaped weights to keep time. Kids can enjoy the moment when the cuckoo appears to announce the hour. Other clocks that add delight to rooms include the Kit-Cat clock, whose tail and googly eyes keep time together. For math nerds, the backwards clock operates and has a face that is the mirror opposite of a traditional analog clock. All ages will have fun with the mental gymnastics to read this clock.
Large or small, melodious or quiet, antique or modern, there are plenty of interesting clocks to add to your Katahdin Cedar Log Home.