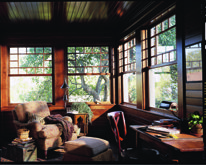 As our customers know, Katahdin has enjoyed a long and special relationship with Andersen Windows and Doors. We've chosen Andersen as the standard choice for our log home packages, and for good reason.
First, the Andersen 400 windows we include into the design of Katahdin Cedar Log Homes, provide superior insulation and UV protection. Like our homes designed with Energy Envelope Systems, Andersen Windows are ahead of the curve when they are stacked up against the new energy efficiency codes to be implemented in the coming months.
Andersen offers three SmartSun glass options for its 400 Series windows, depending on level of clarity and UV protection you desire. Low-E4 glass allows the highest level of visible light (72%) to enter while blocking 84% of the ultraviolet rays that can damage furnishings and fade colors. Low-E4 Sun adds a tint to standard Low-E4 glass to cut visible light transmission to 40%, cutting the solar heat gain coefficient that indicated the level of heat transmission into the home. Andersen's LowE4 SmartSun glass combines higher visible light transmission (65%) with 95% UV transmission blockage and nearly the same low solar heat gain coefficent as the tinted Low-E4 Sun glass.
Andersen's commitment to green practices also makes the company a good fit with Katahdin. Andersen uses a high amount of lumber to produce its windows and doors. As a result, like Katahdin, Andersen is a certified Forest Stewardship Council member, actively promoting the responsible forestry practices.
Andersen has also recognized the common sense approach to sustainability by recycling the sawdust in a massive biomass boiler system. It also has developed manufacturing initiatives to:
– Minimize pollution at the source.?– Conserve natural resources through reduction, reuse, and recycling of materials.?– Promote energy conservation.?– Develop long-lasting products that have minimal effect on the environment.?– Continuously improve our environmental performance.

One interesting project that is still in the development stages is Andersen's new Fibrex® composite material used to manufacture window frames. Fibrex® is a durable blend of wood fibers reclaimed directly from our manufacturing processes and synthetic material. It enables the company to increase the level of recycling, while cutting the levels of volatile organic compounds (VOCs) and extending the life of its window products. Our continuing relationship with Andersen Windows demonstrates our commitment to providing our customers with the highest quality, energy efficient log homes possible.