If you haven't shopped for appliances in a while, you're in for a pleasant surprise. Today's home appliances — stoves, dishwashers, refrigerators and washer/dryers— have numerous great features, and many if not most boast electronic or wireless components that bring them into the era of connectivity and smart design. Not many people are in the market for equipping an entire home, and so the process of selecting all the appliances for a newly built log home can seem daunting. Luckily, there are some very helpful guides to enable you to make choices that suit your needs and your budget.
Energy Savings — For many folks, ensuring that a new kitchen doesn't take a huge bite out of the household budget means that energy consumption is a key factor to weigh.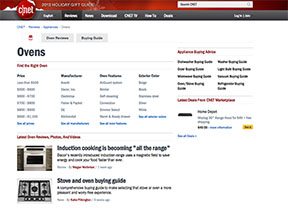 One comprehensive guide to energy efficiency is the Energy.gov website that provides information about how its Energy Star rating systems apply to home appliances.
CNET Reviews — CNET, a well-established website tackling the computer and technology sector, recently added a review section for home appliances. This new section rides the trend that more and more home appliances are including an integrated electronic element, from controls to energy monitoring to adding internet capabilities. The reviews offer a general listing of makes and models in each category. The lists can provide price history, price alerts to notify you if a model goes on sale, and a list and compare feature to keep your favorites at hand. The reviews allow the reader to learn about specific features, view user ratings and other useful information. It also offers a very functional search parameter to narrow down your choices by appliance type, price and manufacturer. The site also reviews other electronics such as home security, vacuum cleaners and televisions, along with its mainstay, computers. The website and reviews are free and one can create an account to receive updates in certain categories. CNET reviews include less mainstream brands such as Dacor and Avanti.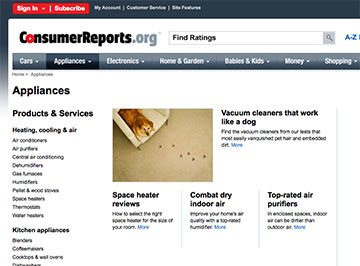 Consumer Reports — The granddaddy of all consumer review websites, Consumer Reports carries an impeccable reputation for identifying the best and the flawed in just about every consumer product category. For appliances, Consumer Reports offers reviews, complete buying guides, and recommendations on a wide range of home appliances. Consumer Reports' online subscription is $30 annually (or $6.95 monthly) or a reduced $20 for magazine subscribers. Because their scope is so broad, their research and review cycle may not include the newest models available. Consumer Reports has also linked up with eBay commerce to provide an ad-free interface "where you can buy appliances in a safe-shop environment," according to the website. Unlike CNET, Consumer Reports reviews and the website's eBay shopping interface only provide information of the most readily available brands sold in big box stores. If you're considering a high-end appliance, you may not find it referenced here.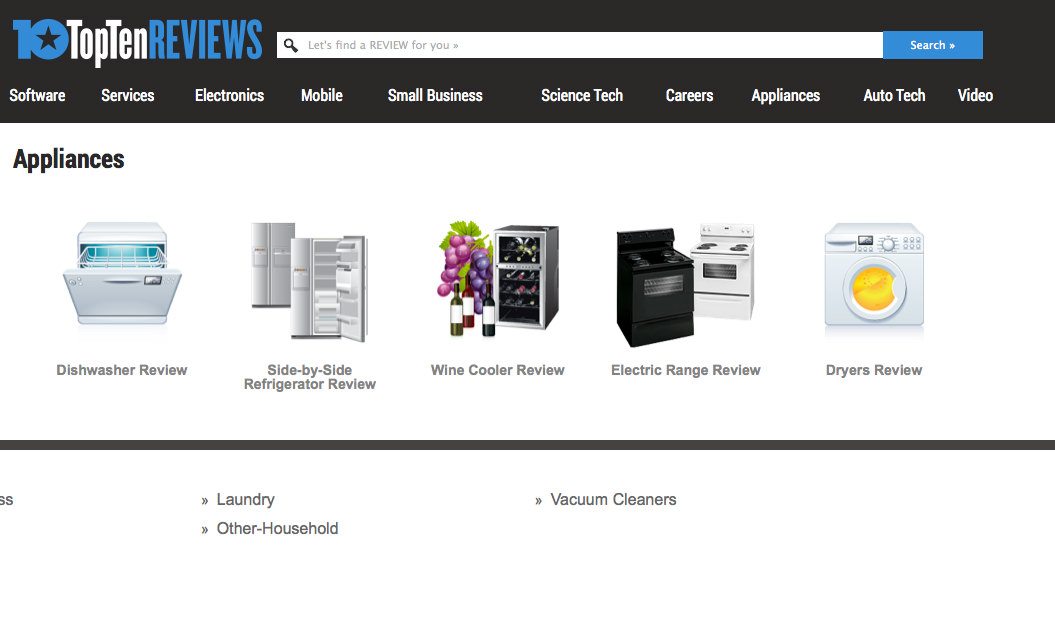 Top Ten Reviews— This is another appliance review website that tracks the ratings and features of the top ten selling units in each category. The site uses a lot of bar charts and grids to allow side-by-side comparisons. Each appliance has a review button, which provides a quick "Pros and Cons" checklist, specifications and photos. The 1-10 scale ratings include a number of category-specific features, including "ease of use" and "help and support." Because the top ten selling brands in the US tend to be mainstream brands such as Kenmore and GE, information is sparse to non-existent for higher-end appliances. Access to the site and reviews is free.