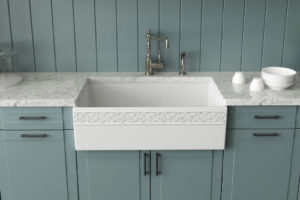 Dramatic farmhouse apron sinks are a must-have for new kitchens in Katahdin Cedar Log Homes. So when we saw these new fireclay sinks from Bocchi, we had to learn more. Bocchi made a big splash a year ago with their Classico Rim apron sink that features racks and cutting board accessories. New this year is the elegant Vigneto Apron sink that adds a stunning raised grape leaf intaglio border on the front apron edge.
Like the Classico, the Vigneto models are available in several sizes, with single and double bowl configurations. These farmhouse apron sinks are available in four polished colors, including white, black, biscuit and sapphire blue, as well as five matte-finished options of white, black, gray dark, gray and brown. Select a bold contrasting color like sapphire blue to make a statement with your kitchen sink or opt for the subtle richness of a biscuit or matte gray sink.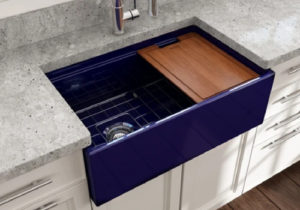 Keeping surfaces clean
Bocchi sinks also feature the groundbreaking Super Smooth Surface technology to reduce undesirable stains and calcium deposits. The Super Smooth glaze is 19 times smoother than traditional glazed ceramic surfaces and allows homeowners to keep surfaces in the sink extra hygienic, while repelling impurities. Additionally, Bocchi's Clean Plus+ technology creates hydrophobic surfaces, especially in corners and edges where two surfaces join together. This keeps the sink extra sparkling and creates an effect that prevents calcium deposits, stains, spots and grime.
Accessories and Compatibility
Bocchi offers several accessories to use with their sink products, including sink racks, colanders, cutting boards and sink strainers. The drain opening can accommodate kitchen disposals without an extra flange. Bocchi also offers coordinating professional style faucets and built-in soap dispensers to complete your kitchen sink ensemble.