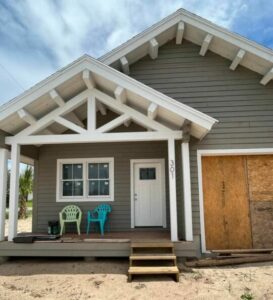 If you're wondering how to realize your log home dream in a non-rustic setting, this Arborwall Home Construction Tour in Flagler Beach, Fla., on Saturday June 25th, can provide some great ideas!  Arborwall Homes have all the same benefits of a traditional Katahdin Cedar Log Home. Here, the exterior of the logs is milled to have a clapboard profile, rather than a round or flat finish. This allows Arborwall homes to blend into areas where more traditional construction is prevalent, including the beach!
Arborwall staff, local dealers and construction professionals will give you an inside look at this home while it's under construction. You'll be able to get answers to all your questions and see — in detail—the craftsmanship that goes into a custom Arborwall home. For more information or to reserve your spot, click here.
More Summer Events
We recommend keeping an eye on Katahdin's events page, which will keep you updated on the latest shows and open house events available.