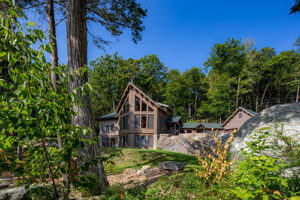 The View From Up North wrote extensively about the beautiful Arborwall home of Troy and Krista Brown in October 2016, shortly after the home received a Leadership in Energy Efficiency Design (LEED) Platinum designation. At the time, the designation was noted as the first for a log constructed home, and the first residential LEED Platinum in the state of New Hampshire. This home was the inspiration behind the Arborwall design concept. With some stunning new photography of the house now available, we spent some time chatting with these proud homeowners about what they learned —and what they love— about their new home.
Getting Started on the Road to LEED
The route the Browns followed to a log constructed home with uber efficiency started with a steep driveway to a spectacular site on Pawtuckaway Lake in Nottingham, N.H. The building site was at the end of a long private road, with several steep grades before reaching lakeside. Troy knew that a typical oil or propane delivery truck wouldn't be able to navigate the dirt road during winter. Instead, they needed an HVAC strategy that did not rely on fossil fuels. "I was inspired by the Passivhaus movement in Germany and our design focus began to incorporate a relentless focus on energy conservation," Troy explained.
Efficiency and Comfort Driven by Economics
Troy realized that with an informed up-front investment in energy efficiency, he could enjoy a beautiful home that was both comfortable and economical. He spent an average of $6000 a year for heating, cooling and electricity on his conventionally built home. He soon realized that if he could eliminate those annual, fluctuating costs in his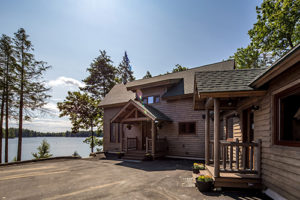 new Arborwall home, it would provide a great return on investment.
Finding a Builder Committed to Learning New Techniques
Troy and Krista credit their Arborwall & Katahdin dealer and builder, Steve Howard of Howard Construction, with suggesting they consider a log constructed home. He knew that the contemporary design of Arborwall would meet their personal aesthetic, and he relished the challenge of creating a super-efficient home. Arborwall's Energy Envelope System, also inspired by the techniques used in this home, was the efficiency foundation upon which Howard was able to expand and ultimately achieve the goal of energy efficiency the Browns required.
Keys to Achieving Net Zero
Ultimately, the Brown's Arborwall home has achieved net zero status in the 2019 heating and cooling season. This means that the combined sources of renewable energy equal or exceed the amount consumed by the household. "Net zero means we do not have any costs for energy," Troy noted. Their home's overall systems are designed to provide a comfortable home year round, with no sharp ups or downs in temperature. These components were the cornerstones to achieving this net zero Arborwall home:
Air Sealing With Howard's attention to detail and a combination of three blower door tests, the Brown Arborwall home achieved an extremely low air changes per hour measurement (ACH50) of 0.42. This translates into a much higher level of air tightness than the Passivhaus standard of 0.6 ACH50. This high level of air sealing was accomplished by using an interior and exterior air barrier combined with taping each seam and sealing every penetration (wiring, plumbing) with spray foam. "Most people think that a log constructed home can't be this tight," Troy noted.
Solar Photovoltaic Panels These powerhouses are positioned both on the roof of the Brown home and on ground mount arrays. For the first 24 roof panels, Brown re-oriented the home so that the spine of the house was perpendicular to true solar south. In 2016, they added two ground mount arrays. Later in 2017, selective cutting removed two trees that were partially blocking the solar panels.
Geothermal HVAC To tap into the earth's constant energy, the Browns invested in a geothermal heat pump system to provide heating, cooling and hot water, a system they've supplemented with a centrally-located wood stove. During the winter, they use the wood stove almost exclusively to heat.
High Solar Gain Windows To complement the tight envelope, the Browns installed German-made Intus windows that have an R-11 rating and a strong solar heat gain coefficient (SGHC) to maximize the sunshine in south facing windows. That's an important element to include when targeting a low energy use home.
Smart Energy Monitors Troy has installed several types of energy sensors (eGauge, Sens, and Wemo Smart Plugs) to monitor energy usage, as well as to automatically switch off energy "vampires" like Wi-Fi routers and televisions during times when not in use. With these combined tools, they've been able to understand their energy usage and further change energy wasting habits.
LED Lighting High efficiency LED lighting is used throughout the home, including external security lights. Those rooms notorious for have the light "left on," including bathrooms, bedrooms, storage closets and the garage) also deploy occupancy sensors to turn off when people are not present.
Use of "Attic" Fan During cool summer nights, they open the windows and use a high capacity CFM (cubic feet per minute) floor fan to simulate an attic fan by blowing air out at the back of the house. This pulls outside air into the house from lower floors and rapidly cools the house. Once cool the house can be closed up in the morning. " Because the house retains its temperature so well, we can use a 200-watt fan instead of the 3000-watt geothermal heat pump and minimize our reliance on air conditioning for most of the summer," Troy noted.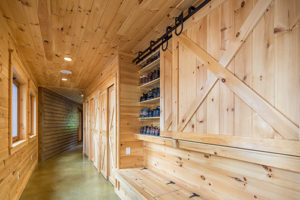 Thoughtful Features Make This Home A Pleasure
Several interesting features serve a dual purpose in Troy and Krista's Arborwall home. One of the most notable is the shoe closet. This shallow depth storage area, equipped with handy bench seating, provides a quick and easy place to shed dirty outside footwear to inside only shoes or slippers. This feature helps keep dirt and winter snow from tracking inside and keeps the interior cleaner. Cleaner interiors mean fewer cleaning products and improved indoor air quality.
Future Improvements Considered
Even though Troy and Krista are satisfied with the choices and selections they made with their home, there are some tweaks they are considering for future home updates. "There's very little we would have done differently, but we wish we had paid more attention to interior acoustic qualities," Troy said. Krista is a drummer and plays drums in a basement studio. "With the open plan, the sound carries quite well upstairs," he added. Adding some sort of barrier—perhaps a pocket door— may be in the near future.
Another consideration for the future is a storage battery system for the solar array. Troy is watching the residential battery options looking for increases in capacity and lower costs. Once a happy medium between those two factors is reached, Troy is hoping to store the energy he produces at home, rather than sell it back to the power utility. Currently they are on a net metering program, with their New Hampshire power company acting as a virtual battery for excess solar power. "Unfortunately, like most net metering programs, we do not sell and buy back our kilowatt hours (kWhs) at the same price," Troy said.
Favorite Spots to Enjoy
Troy and Krista have been living in their home for just over three years. They've developed and refined their lifestyle, but not as much as some people might think. Always energy conscious, they've been able to create a home where comfort and enjoyment are key, without concerns over the price of fuel or electric power. Troy spends quite a bit of time in his home office, located in the loft of the house, while Krista enjoys cooking and canning in the kitchen. Both Krista and Troy enjoy the stunning scenery visible from every room in the house. "The views are spectacular everywhere," Krista says, "Especially at sunrise and moonrise!"
This slideshow requires JavaScript.