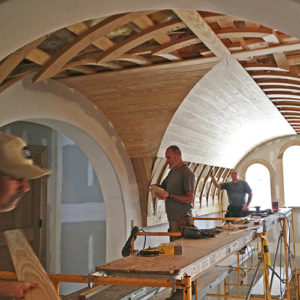 Most homeowners love adding a custom feature that makes their Katahdin Cedar Log Home uniquely theirs. Yet, often custom carpentry comes with a custom price tag. One Texas company, Archways & Ceilings, offers a way to add custom curves to anywhere in your log home, with prices that won't break the bank!
Origins in Southern California
The company got its start when framer Mike Barry designed a skateboard ramp for his teenage son. Coaxing wood into curved shapes appealed to Barry and he soon was adding curved features to residential homes. But the big leap was when he was able to develop a proprietary process and machinery that allowed for custom designs and quick turnaround. With the manufacturing capabilities in place, the company relocated to the high growth area of Grand Prairie, Texas, just outside Dallas. We spoke with A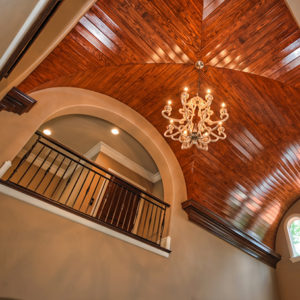 rchways and Ceilings partner Wes Scott, the nephew of the now-retired founder.
Add Curve Appeal That's Easy on Contractors
One of the biggest barriers to adding custom features is the cost of extra labor and finding a framer with great skills. The curved wood framing produced by Archways & Ceilings takes the guesswork out of curves for framers and finish carpenters. Each custom project is designed and reproduced using the specific measurements provided: height, width and length, along with dimensions specific to the feature being designed. For more complex designs like groined ceilings or cloister vaults, the company can provide a three-dimensional CAD file to review and adjust if necessary. The company works with architects and design teams to achieve the look and effect desired.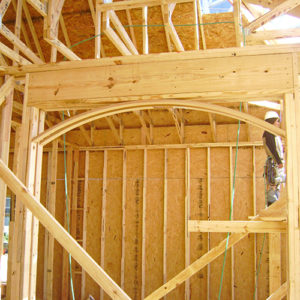 Complete Selection of Elegant Kits
Some of the designs harken back to ancient architectural styles that still hold their beauty in today's modern homes. You may not know the specific names of the arches and ceilings, but you'll recognize the effects as drawn from Romanesque and Gothic buildings. The company designs these ceiling and archway kits in custom dimensions:
Vaults, including groin, cloister, cross and barrel
Ceilings, including dome, elongated dome, oval domes, cove and more
Archways, including curved, elongated curves, gothic and Tudor
Other custom designs can be fabricated—all you need is your imagination! Scott noted that the most unusual ceiling he had designed was an oversized bell curve ceiling for a customer's entertainment room.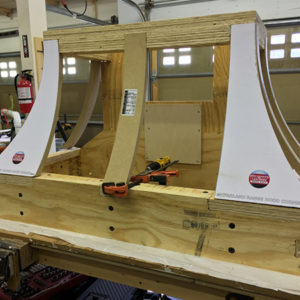 Specialty Wall Designs
With their wall design kits, curves can be added in many other locations in the home, including wall niches, fireplace canopies and curved range hoods. By crafting the underlying structure from formed wood, these features can be clad and finished to suit any décor and style. With an average price tag of $350 for the range hood frames, homeowners can get the custom look they desire in range hoods without the elevated price tag.
Integrates Well with Katahdin
Once the curved wood frames are assembled and nailed to the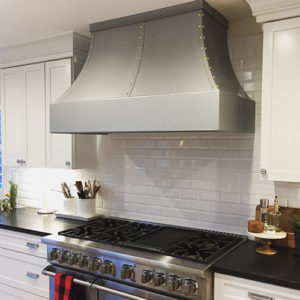 frame, Hi-Flex flexible drywall is then applied to the curved frame, wetting the specialized drywall to fit each curve perfectly. Because of the unique Energy Envelope wall system within Katahdin log homes, these archway and ceiling designs can merge well with flexible interior wall finishes. Air sealing and insulation can be applied easily in the spaces behind the feature to maintain top energy efficiency.
Quick Turnaround
Scott explained that because of their unique machinery, turnaround for custom archways and ceilings averages 7-10 business days. The completed kits are dry assembled at the plant then disassembled and flat packed with detailed installation instructions. The kits are shipped via UPS Ground, so no special freight is required for most products. If your home is located in the Dallas area, the company operates their own delivery trucks as well. One caveat to note is that delivery is not available for the Southeast quadrant of the U.S., including the Carolinas, Georgia and Florida.
If you're considering including a custom designed ceiling in your log home, make sure you alert your dealer so that the Katahdin design team ensure seamless integration into your plans. The folks at Archways and Ceilings can work directly with the log home design team in Oakfield, Me.