Equipping your new Katahdin Cedar Log Home with a mailbox may not seem like a big deal, but getting it right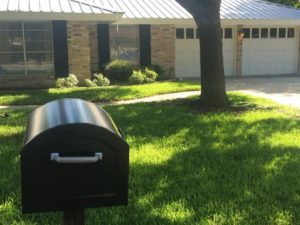 can save a lot of headaches. With the growth in internet marketing and delivery, the US Postal Service issued new specifications for rural mailbox design to accommodate the increased mailers and small parcels that we order on a regular basis.
We spoke with Vanessa Troyer, CEO of Architectural Mailboxes, about changes to the postal service and some of the new options available to address the changing delivery landscape. The first interesting bit of mailbox information she shared was that only the USPS can deliver items to your mailbox. Other delivery services must bring them to your door.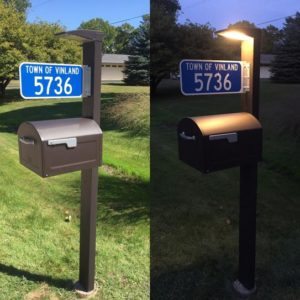 Troyer's company started producing beautifully designed mailboxes to match the aesthetics of new home designs "Many of our customers build stone or brick pilasters to hold the mailbox, and they were looking for a container that reflected their homes," she explained.
When the internet sales phenomenon started taking hold, Troyer embraced the new specifications developed by the USPS and launched their new Centennial mailbox (above and left). It was the first design to receive United States Postal Service approval against the new USPS Standard 7C regulation, released in late 2015. Since the last approved design for mailboxes dates over 100 years ago in 1915, this is a fairly big deal for mail!
The Centennial is available in black, pewter and rubbed bronze and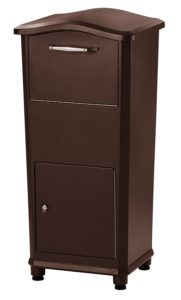 is constructed from heavy galvanized steel.  The new 7C design is not required for mailboxes at this time. If you prefer the traditional style, Architectural Mailboxes offers many beautiful traditional designs for your home's mailbox.
For those of us with Amazon Prime memberships, packages being delivered by UPS or FedEx can also be a challenge. Sometimes thieves follow the trucks around to scoop up unsecured deliveries left on porches.
That's why Architectural Mailboxes developed their lockable drop boxes to receive parcels. The initial design, called Elephantrunk™ parcel drop (right)a, can hold packages roughly the size of a shoebox. The Elephantrunk™ can receive multiple boxes, and features an outgoing partition for returns. The Elephantrunk™ even has a vacation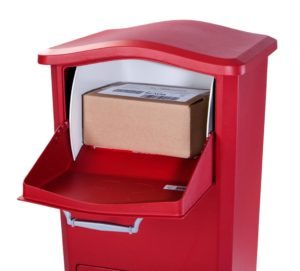 hold mode to stop shipments while you're away. It is crafted from heavy gauge aluminum and comes in black, white and red powder coat enamel or rubbed bronze to match any décor. The locked compartment is pry-proof and comes with two keys and hardware to mount to wood deck or hardscape.
In the works for distribution soon is the Elephantrunk2™ that can accommodate larger boxes, up to the size of a case of wine. Great news for wine club members! Architectural Mailboxes are available through Lowe's, Home Depot, Amazon.com, Target, Bellacore and Houzz.