Many Katahdin Cedar Log Home customers opt for wood floors—it's a natural continuation of the beautiful cedar log walls that gives rooms a feeling of openness and space. But you may find that adding carpets in large and small sizes will add another dimension to your decorating scheme.
Anchors in open spaces


For large areas such as great rooms, family rooms or game rooms, use carpets to anchor seating areas, dining areas or areas around the fireplace or entertainment center. If you have cathedral ceilings, adding area carpets to the floors will help to keep noise levels down as you reduce hard surfaces which can reflect sound.
Millions of options available
Area rugs can be less of a long-term commitment to a style or color scheme than wall to wall carpet, because of their portability. If you have furniture in relatively simple color schemes, you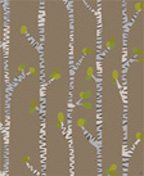 can revamp a room with the change of area rug and a few accessories. Oriental rugs as a category offer a wealth of styles, colors and configurations, some like the Chinese silk carpets offering more formality, while other more elemental patterns and wools can lend a more casual or contemporary feel.
Some contemporary designers are producing exciting designs that work well in many

decorating schemes. Angela Adams is known for her eclectic contemporary designs, yet some of her wool carpets would display splendidly in a log home with a more modern feel.
Another classic area rug that works well in log homes is the wool braided rug. One maker in Massachusetts, Cape Cod Braided Rug, offers a number of color and style options in circular or oval shapes.
And because area rugs can move from room to room you can change the look and feel of your home easily. If you add a special rubberized pad underneath the area rug, they will also work well in areas where wall-to-wall carpeting is installed.