After spending lots of time dreaming about your own custom Katahdin Cedar Log Home, it's tempting to add features based on what's trending on Pinterest or the latest glossy magazine article. But most folks have limited budgets and need to identify the basic elements needed as well as what optional features make sense. The determination of needs and wants—what's included in your home design— often falls back on a serious and honest review of your lifestyle.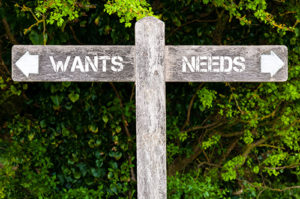 Lifestyle Evaluation
We spoke with new homeowners who had some experience with determining what they could include and what they needed to revise or eliminate to meet their design and budget parameters. Gabe Gordon and his family recently moved into their new Arborwall Solid Cedar Home after several years of planning. As the manager of Katahdin's sister home brand, Gordon wanted to build a home that would showcase the Arborwall brand's best features, but also meet his family's specific needs and budget.
Start with the Present
When imagining your new log home, the Gordons suggested you evaluate how you use your current home. What do you like? What don't you like? Are there activities you do often —like entertaining or hosting guests— that are difficult or impossible in your current space? Are there rooms that you never use or just walk through to get to the center of activity?
For example, the Gordons explained, many new home owners are eliminating the formal dining room in favor of more flexible open-plan, kitchen/dining/great room designs. They recommend you keep a notebook handy and keep notes as you move through your home for a couple of weeks. Does a first-floor laundry make sense? Or should the laundry be located adjacent to bedrooms? A gorgeous soaking tub in the master may be part of your dream, but are you willing to sacrifice the walk-in closet space? Oftentimes, couples have different priorities in mind for their new home, so it's a good idea to talk through your individual visions before you get to the design phase.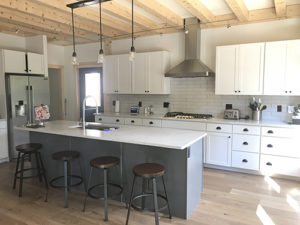 Keep a Short List
When building a new log home, the endless possibilities can make decisions challenging. Start with a list of three or four "must-haves" in your new home. For the Gordons, four items were essential to include: a walk-in pantry, a guest bedroom with a private bath, a powder room off the main great room and a den/media room. These must-haves met a specific need that was missing or inadequate in their previous home.
Short-term Savings Versus Long-term Benefits
Often decisions are made on based on short-term upsides rather than looking at a complete long-term picture. Choosing an inexpensive, standard HVAC system or minimal insulation to make room in the budget for custom granite countertops and high-end cabinetry may have met some short-term "wants," but saving money and energy for heating and cooling might be a better long-term priority.
For the Gordons, emphasizing energy efficiency was a long-term benefit that required them to adjust other choices to make room in the budget. For their new home, the Gordons invested in a hybrid heat pump combined with a high efficiency propane furnace with smart controls. Because the house is so well sealed, an energy recovery ventilation (ERV) system replenishes fresh air throughout the home while simultaneously capturing the energy for recycling through the forced air system. They kept other potential high-ticket items like lighting fixtures within a moderate price range to stay within budget goals.
Allocating Space
When the Gordons first drew up plans, the design for their Arborwall home featured large bedrooms. After much review and an oversized house footprint, they revised the plans to keep bedrooms more modest and increase storage. "We realized that we didn't spend a lot of wake time in the bedrooms," Gabe said. Because they selected extra high 9-foot ceilings, smaller rooms didn't feel cramped, but were airy and light-filled with plenty of windows. As a nod to Gabe's childhood spent in his parents' Katahdin log home, one feature they included was an open walkway overlooking the great room. He has fond memories of decorating the top of the annual oversized Christmas tree and will maintain that family tradition in his own family home.
Essential Compromises & Tips
Now moved in and experiencing their new home's spaces, the compromises the Gordons chose are working out fine. Some tips the Gordons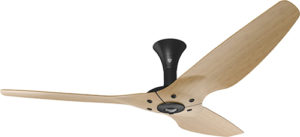 recommend for folks planning their wants and needs include:
Skip heat installations in second floor areas that are open to cathedral ceilings — most people never turn on heat in their lofts because the warm air rises.
Do include air return ducts high on the walls to capture heat and send it back to where people are.
Plan for ceiling fans in the cathedral ceiling areas to keep rooms comfortable.
Include hard wired fiber optic cabling to support the imminent future of internet connected appliances, including televisions, refrigerators and security. This leaves more bandwidth on wi-fi systems for devices.
Your dealer or sales representative will have some great ideas and suggestions for solutions to the inevitable conflict between your wants and needs.