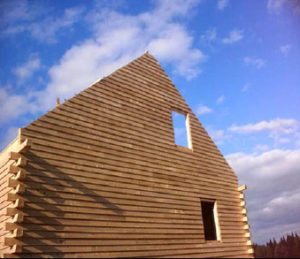 **updated 10/6/23**
There are a lot of elements to building a beautiful Katahdin Cedar Log Home and determining your budget is an important one to initiate. Even if you've constructed a home before, it's important that you, your dealer, and your contractor have a detailed budget to work from to avoid costly, unnecessary expenditures. We spoke to one of our most seasoned dealers, Lynne Lassonde of Mountain View Construction in Pittsburg, N.H., to get her take on budgeting.
Turn-key Pricing
As a general guideline, multiplying your complete log home kit value (not including land) by three can give you a general idea of an overall turn-key budget for mid-grade finishes—with a few caveats. Depending on your land location and characteristics, cost variables for infrastructure can challenge many budgets. So, it's important to have a site plan in hand and walk the property with your Katahdin dealer. In Lassonde's area, the distance from the road to the building site can be quite long, even in subdivisions. Understanding the estimated costs for electric poles or underground power, as well as road requirements, can help map out the basics for your infrastructure. Some potential high-ticket items might include culverts, blasting and well drilling.
Start with a Worksheet
Lassonde uses a worksheet to itemize all the details to constructing a home. Often lenders also have specific worksheets to reference budget amounts and timelines for fund release during construction. Whatever checklist you use, it will likely group budget items in categories: site infrastructure, log home kit, exterior shell construction, interior finishing and extras.
Site Infrastructure
Excavation, Driveway —This figure will vary depending on the land you're building on, distance to the road and whether any blasting needs to be done
Well —A well contractor can provide a good idea on costs, depending on experience in the area.
Landscape/Hardscape — Include added trees and plantings, hydroseeding, irrigation systems, terraces, walls and other garden features.
Septic Design — Will include plan and location for drain field and septic
Septic System/Sewer— Septic installation or connection to municipal sewer
Foundation — Frost walls, basement walls, drainage and poured basement or slab floor.
Log Home Kit
Estimated price for Katahdin Cedar Log Home kit; what it includes and what it doesn't.
Masonry/fireplace— A fireplace or woodstove is often an essential element in many customers' minds. A full masonry fireplace can be a costly, but beautiful, centerpiece in the home. However, there are many ways to achieve the look without overspending. The fireplace decision is important at this stage because it may require extra support designed in if you select a full masonry fireplace.
Exterior Shell Construction
Getting the log walls up, installing purlins & trusses, windows, roofing system, construction of loft floor, and the log home is enclosed. Your dealer or contractor will provide a figure for completing this stage of building. This estimate may have separate line items for decks, porch steps, and screened porches.
Interior Finishing
Once the log home is closed in, this phase marks the start of interior finishing of your Katahdin home. From the outside log walls in, all the elements to complete your home will be addressed in this part of the budget. Often, bank financing marks this time for a second construction draw.
Energy Envelope System interior insulation package — including the insulation, wall sheathing and trim.
Log stairs and rails
Doors — interior and exterior
Interior stain and polyurethane
Plumbing
Heating
Electrical rough and electrical finish
Underground wire and conduit from pole to house
Finishing Variables or Extras
Include those items that can range widely in price. Lassonde encourages her customers to begin shopping for options for these items early on as the final pricing will depend on individual selections. As an example, Lassonde allows in her budgets for wiring to the fixture and installation of the fixture but leaves the selection (and cost) to her customers. Understanding what features and styles you desire, then matching those with sales and promotions can really stretch a budget.
Flooring
Cabinetry, including kitchens, bathrooms and mudrooms
Countertops
Bath fixtures/accessories/shower glass/shower doors
Light fixtures, ceiling fans
Appliances
Generator and pad mount
Alarm system
Sauna
Other extras
As any good dealer knows, it's also important to allow some flexibility in the budget and set aside a percentage for unexpected cost centers that arise in nearly every building project. Understanding your budget is an essential part of building your Katahdin Cedar Log Home.