Your kitchen backsplash is the visual element that ties your cabinets, counters and appliances together. With so many exciting choices, we provide some tips for selecting the right media and design for your Katahdin Cedar Log Home kitchen.
Common Backsplash Materials
Backsplashes can use a wide array of materials, from subway tiles to fired clay bricks. Stone and stone-like surfaces can continue vertically for a seamless and elegant look. Other materials like 3-form's resin sheets can provide unique backsplash treatments that are seamless and easy to clean. Even stainless steel can provide an easy to clean surface around your sink and appliances.
What's Your Style?
Are you conservative and subtle with your finishes, or do you enjoy bold statements? Your kitchen backsplash is one way to experiment on a relatively small area in your Katahdin Cedar Log Home. You'll also want to consider the overall décor in your
home. Are you planning a rustic retreat, or more contemporary style? Are your colors warm or cool? Do you love patterns and prints, natural textures or sleek, glossy color?  You'll want to make sure your colors complement cabinet choices and appliance finishes, as well.
Tile for a Classic Look
Tile backsplashes are a great choice, though they can be a little harder to keep clean, depending on the tile surface and the amount of grout you use. Fireclay Tile is one company that offers a wide variety of choices and sustainable production to boot. Subway style tiles are an easy choice with hundreds of colors, sizes and types of materials. Other interesting geometric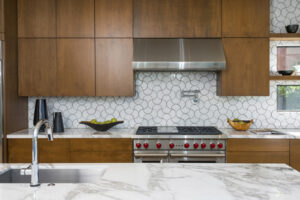 tile shapes mimic diamonds, hexagons and arabesque shapes that add visual interest without overwhelming. Finally, if you're looking for a bold statement, applying hand painted tiles to the area between your range and exhaust hood can add a splash of color and pleasing focal point to a beautiful kitchen. While a contrasting grout can define the geometric patterns in your tile, avoid wide grout applications, as they are difficult to keep clean. Make sure you apply a grout sealer once the grout is dry.
The Look of Marble Without the Hassle
If you love the look of marble countertops, but are wary of the special care needed, consider using marble as your backsplash. As a continuous sheet, or large format marble tiles, you'll achieve the beautiful veining and subtle colors without the worries of staining. If you're a bread or pastry aficionado, consider using cut outs or excess tiles for a marble counter inlay on your island for a cool kneading surface.
Seamless is the Future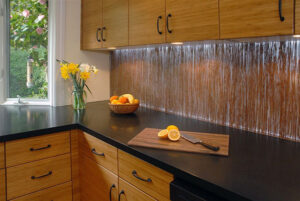 Many kitchen designers are taking the seamless approach to kitchen backsplashes. The one-sheet approach cuts down on cleaning because there's no annoying grout or uneven surfaces to trap grease. Some designers are using glass as backsplash material. Glass can be back painted in any color for a beautiful backsplash. Textiles, grasses and paper can be sandwiched between glass sheets for a creative and unique effect. Resins —like those from 3-form—are another way to go, with predesigned textures and colors available to complement your home's décor.
Samples Can Make or Break a Choice
Once you've narrowed your backsplash choices down, ask for samples to lay against your cabinet  and counter top samples. Look at the samples in normal daylight to ensure that they will be a harmonious fit.