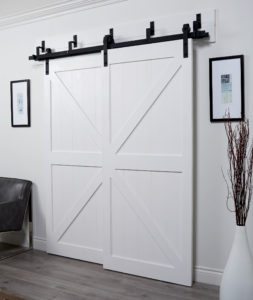 If you're considering adding a barn door to your new Katahdin Cedar Log Home, you may want to consider some of the new options offered by Canadian company Renin.
They've designed some great engineered wood barn doors that combine solid construction with good looks and a scratch resistant finish. Renin also offers four frosted glass panel barn door designs that combine privacy with natural light. They also make a traditional solid barn door that can be stained or painted to match. With no bottom track, the entryway remains clear and hazard-free.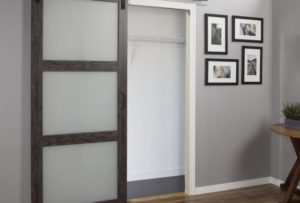 Each kit comes with the strap hardware and track, including a matching track mounting block for installation on drywall surfaces. The hardware is available in three colors: brass, black and stainless steel.
Many Opening Options
Most folks think of a single barn door and track set up as a space-saving entryway to a room. However, Renin also offers other configuration options including:
By-passing Barn Doors—where a pair of doors can pass over each other and open fully to one side or another. This is a great option for closets and pantries.
By-parting Barn Doors that slide open and meet in the middle when closed. This can provide a nice solution for an entertainment area to tuck televisions away when not in use.
Renin's hardware is unmatched in its ease of operation. One of the features we like is their soft close feature that keeps the barn door gliding and stopping smoothly, while opening at the touch of a finger.
Renin's barn doors and hardware are sold throughout the US and Canada.