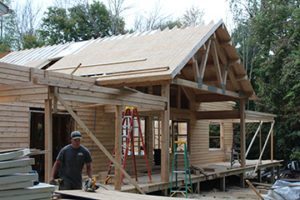 Navigating the market for construction financing can be challenging for folks who plan to build a log home. Katahdin Cedar Log Homes has researched lenders who are better equipped to understand the details of log home construction — and also have some great advice to secure your construction loan and long-term log home financing. We spoke to two construction loan specialists about their specific construction loan programs, as well as recommendations for making the log home financing process as smooth as possible.
Keep Your Options Open
When seeking a loan, it's a great idea to speak with several lenders. Start with your personal banker and include other mortgage companies in your initial research, ensuring that you explain your plans to construct a log home. Many of our customers find success with credit unions, so don't leave these institutions off your list. Lenders who keep loans within their portfolio, rather than resell them on the mortgage market, often have additional flexibility. The lenders we interviewed here also offer specific loans, structuring and experience with log homes that are worth a conversation as well.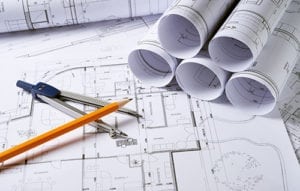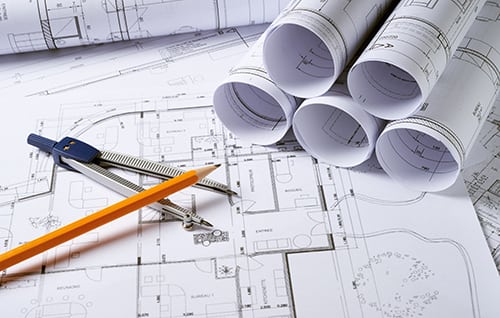 Keep Your Financing on Track
Despite positive intentions, sometimes log home financing is not available from your first lender choice. Unfortunately, that can set your schedule back—sometimes several months! Therefore, we highly recommend that you submit applications to two (or more) lenders at the same time. You'll have all your financial records compiled and ready to go, so making an extra set of copies is easy. It can be worth the extra application expense to apply for loans with two different lenders at the same time—in case one falls through, you'll be way ahead of the game with your second choice.
Get Prequalified Early
If you're ready to put a deposit down, get prequalified. That way you'll be able to design a log home that fits within your budget. Your mortgage officer can also explain how their loan process will work, so that you have funds available at the right time during construction. Because log homes often require a substantial deposit and payment in full upon delivery of your log home package, you'll want to ensure that the funds are available for that upfront construction cost.
Understand Custom Home Values in Your Area
Appraisals are a necessary component of the mortgage process. Appraisals give the bank confidence in the value of the log home that they are financing. Before your log home design is finalized, get in touch with your real estate broker and request a list of comparable homes using the similar bedrooms & baths, land size, and square footage as the log home you plan to build. If the broker can identify any nearby log home sales, include that in the analysis. You'll be previewing the process used by the appraiser to assign a value to your home.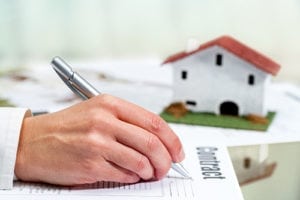 For example, say you plan to build a three bedroom, two-and-a-half bath, log home with about 1800 square feet of above-ground living area. A search of local custom-built home sales shows a range of values of $350,000 to $375,000. Use this figure as a target for your total home building costs—including land. If your package exceeds that comparable range, you may need to increase your cash investment, or take another look at your design, relative to local homes to meet the appraisal standard.
Three Financing Options
We spoke with three mortgage specialists who finance log homes to get a sense of how their loan programs worked. They all provided great advice which has been incorporated into the above points. Here's a rundown of their advice for folks who plan to finance their log home construction.
Heather Allen has been a Mortgage Specialist for Country Living by Farm Credit East  for 12 years. Like the name indicates, Country Living financing focuses on rural and agricultural financing. They offer two options:
Farm Eligible — This financing is for properties with an agricultural component, from large scale farms to smaller holdings featuring hay, timber or animals such as horses, chickens or cattle.
Rural Resident— Still focusing on a rural area resident, this financing is for single-family, owner-occupied, primary dwellings. These loans are generally used for rural settings and more moderately priced homes.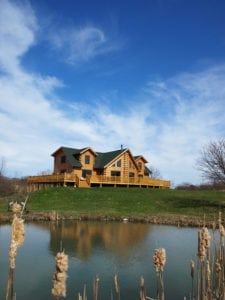 Because Country Living holds the majority of its loans in-house, they can offer "more flexibility, but still may encounter challenges," for the appraisal component, according to Allen. Because of the rural nature of their loan programs, they are able to cross state lines for comparable properties, which can make it easier to meet appraised values. "We look at the total value of the property," Allen explained. "If a borrower has some equity in the land, that may be applied to the total loan value to increase the funding level for the home."
Country Living offers a single closing, with a fixed rate, and interest-only payments required during construction for up to 12 months. Once the certificate of occupancy is delivered the loan converts to regular amortized payments according to the agreed-upon schedule. Country Living offers financing in Connecticut, Maine, Massachusetts, New Hampshire, New York and New Jersey.
According to Alberto Michel (NMLS: 1403959), Senior Mortgage Loan Originator,  PrimeLending, can help you finance a home in all 50 states. Alberto is the borrower's primary point person for construction loans at PrimeLending, ensuring a seamless process and providing timely updates along the way. With more than 400 loan products, PrimeLending offers the flexibility to choose a construction-only loan, or a log home mortgage that includes the purchase of a lot or land, but not land only. When ready to apply for financing, as is the case with all lenders we spoke to for this article, the borrower will need copies of the construction contracts, including all costs and budgets for infrastructure like septic, road work, and water well, if necessary. He highly recommends researching comparable home sales for future value reference for the appraisal. Depending on current home values, $726,200 is the loan limit for a conforming mortgage, unless the property is located in a federally mandated high-cost area. Jumbo loans are also available.
PrimeLending offers a two-step closing process for construction loans. The first loan is a construction loan, where interest only is paid on the funds as they are disbursed. Once the home is completed, a second closing will roll the construction loan into a conventional loan with a 15-,20-, or 30-year amortization or other time period preference. PrimeLending requires a minimum of 20% down payment, plus closing costs. Additional restrictions may apply. Contact Alberto Michel for more details.
PrimeLending typically uses local appraisers and title companies, and offers a convenient digital process with secure online document collection/verification and electronic signature support.
Greg Ebersole is the mortgage originator with Orrstown Bank which offers lending in Maryland, Pennsylvania and West Virginia. Orrstown offers a portfolio construction loan, featuring a two-closing structure, though the second closing is often just a matter of signing final paperwork. His emphasis was ensuring that the final appraised value of the log home not fall short of the actual cost of the home. Ebersole is looking for plans, specifications and a signed construction contract prior to application. He recommends a log home construction term for at least 9 to 12 months.
Orrstown Bank offers a standard draw schedule, which with log homes may require a significant initial draw to pay for the log home package delivery. Ebersole explained that often people get ahead of pre-qualifying by finalizing designs before talking to a mortgage specialist. He shared one instance where the log home design featured a half bath on the main level, an unfinished second level, with all the bedrooms and full baths in the walk-out basement. Because appraisers look at living areas above grade only, on paper the house looked like a half-bath, no bedroom home and was unable to qualify for the loan amount desired. His advice is to have detailed conversation with your lender before committing to final home design, especially if you plan something unusual.
What is clear after speaking with these three experienced lenders, is that it pays to plan ahead and do your research in the early stages of your log home construction process. You can count on the resources of your Katahdin dealer to help with coordinating all the information about your Katahdin Cedar Log Home package prior to applying for financing.
Additional source for log home financing include:
Tom Coronato, Construction Loan Specialist tom.coronato@citizensbank.com at Citizens Bank offers lending in Wisconsin, Michigan, Illinois, Kentucky, Tennessee, Indiana, Ohio, South Carolina, North Carolina, Virginia, West Virginia, Pennsylvania, Delaware, Maryland, District of Columbia, New Jersey, New York, Connecticut, Rhode Island, Massachusetts, Vermont, New Hampshire, Maine.