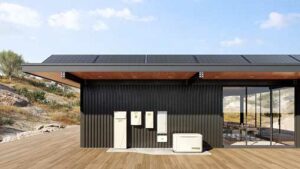 When easy access battery storage first came into the market it was used as a back-up accessory to the home's solar power array for times when the sun wasn't shining. Since then power usage and the electric utility interface between a Katahdin Cedar Log Home and the local electric company have changed dramatically. These changes make battery storage an essential component to planning your home's power set-up. And beyond mere storage, new battery systems also monitor and operate your home's power usage to maximize the energy available.
What's Changed?
Electric power has taken center stage in many state and municipality plans for reducing their carbon footprint through solar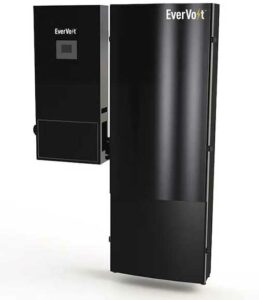 generation, wind generation and a reduction of fossil fuel use. Electricity can come from many sources in a home: from the local utility, from rooftop solar panels, or from community solar programs. Batteries provide power when the utility service is interrupted and when the sun is not shining. Time-of-use billing has also changed the way many homes use batteries: topping off charges when time of use rates are low and activating battery usage when rates are high.
New Technology to Maximize Efficiency
Homeowners with mostly electric heating, cooling and hot water invest in highly efficient heat pumps, on-demand water heaters and efficient appliances to keep electric costs down. Including a solar array where possible also offers a way to lock in the cost of electricity in today's prices. Adding a power systems manager can increase your home's efficiency in ways that can really add up!  Here are some of the new energy management systems available for residential use:
Generac PWRcell + PWRgenerator  — For grid-connected energy independence, this combination of battery storage, generator and monitoring system will power you through emergencies as well as daily electrical usage. Link the PWR system to both the utility grid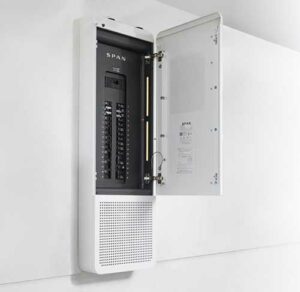 and your solar array for double redundancy and resale of excess power back to your electricity provider. The system is flexible with battery modules that can provide a range of  storage an output configurations starting at 9 kWh of capacity and 4.5kWh output.  Need more power?  Three linked battery cabinets can be connected to a single PWR invertor for a hefty 36kWh of storage and 11kW continuous backup power.
Panasonic EverVolt™ Battery Storage — When talking batteries Panasonic is on the cutting edge of battery technology. Their battery system can store power from solar panels or from the grid during off peak hours for use when electric rates rise. An excellent system to connect to solar panels.
SPAN Gen2 Smart Panel — The Span Electrical panel takes monitoring your home's power use to the next level. The smart panel monitors and controls all input and draws on your home's electrical system. Through the smart app, SPAN monitors solar panels, battery storage and usage throughout your home to provide insights into your energy consumption. Its sleek look makes it adaptable to any location, indoors or out.
Fortress Power All-in-one Solution — This battery company has teamed with Sol-Ark, an inverter manufacturer to create a plug-and-play storage solution enclosed in an attractive dust- and waterproof cabinet. The all-in-one consists of 4 eFlex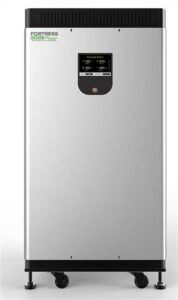 batteries and a single 12K or 15K inverter. Fortress batteries use Lithium Iron technology that stores power without the potential danger of high heat or fire that Lithium ion batteries can produce. The All-in-one can provide power outage protection, reduce peak charges from utility Time-of-Use rates, provide off-grid capability, and limit the amount of solar power exported back to the power grid. With 15+ year lifespans and a generous 10-year warranty, Fortress offers a different solution for energy storage.