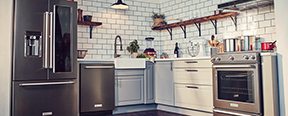 Stainless steel is the "go-to" choice of many homeowners selecting kitchen appliances, but several manufacturers are now offering their kitchen appliances in a new, black stainless steel finish. Black stainless offers a more subtle and less "commercial kitchen" option. We think it works especially well in log homes.
A Bold Addition to Any Kitchen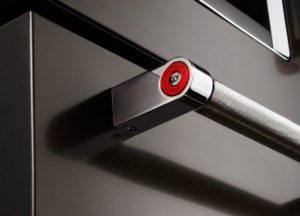 KitchenAid offers a complete kitchen full of black stainless appliances. The black stainless line offers a warmer alternative to stainless with chrome details and satin finish handles. Each appliance has a PrintShield Finish that resists fingerprints and smudges for continued great looks.
Some kitchen designers are mixing and matching with traditional stainless for a dynamic approach. The silvery chrome accents allow this seamless approach to really work. The line has nearly every appliance available in black stainless, including the staples of refrigerator, stove, dishwasher, and built-in wall ovens. Luxurious wine coolers, sleek kitchen hoods, and a microwave oven complete this attractive appliance line.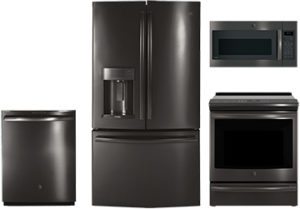 More Appliance Options in Black
GE Appliances' selection of black stainless steel lack the chrome accents and feature trim and handles in black for a more subtle appearance in the kitchen.
Frigidaire's line of black stainless appears to be a deep charcoal tone that pairs well with black glass and control panels, and includes many combinations of features, sizes, and fuels.
Luxury Black Range
Finally, one luxury brand really caught our eye — Dacor's Modernist Dual Fuel Steam Range. Its steam oven design is a gourmet chef's dream, with innovations including stacked sealed brass burners for precision controls, Wi-Fi enabled 7-inch LED control panel, and really a striking design.