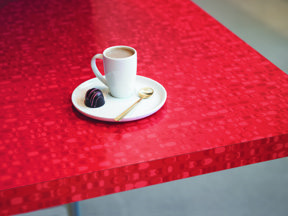 Formica passes its century mark this year, and it celebrated with a new colorful line of patterns. Formica surfaces are such a big part of any retro look, we thought it would be a good time to see what new ideas Formica® might offer.
We spoke with Bill Roush, Director of Communications at Formica Corporation, to see how the company and its products have evolved to meet modern tastes. The company has made a number of innovations that make this surface a very attractive choice. "Formica as a tried-and-true countertop option has had a resurgence thanks to breakthrough technologies and processes that enhance its inherent features, while reimagining its possibilities," Roush said. These enhancements include large-scale designs, texture, realistic edges and sustainability.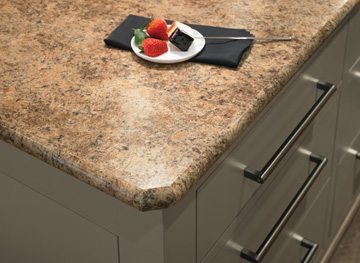 For those who are looking to maximize kitchen and bath budgets, Formica surfaces offer a less expensive option that delivers the look of stone with out the high cost. Formica has developed pattern technology in its 180fx® Collection that reproduces true scale, striking color variations and veining of full-sized natural granite slabs. With a design size of five feet versus the traditional 18-inch patterns, Formica offers the look of high-end stone.
The addition of refined textures Formica enhances the shine of the surface and adds a warmer feel to the surface. The modern Formica also offers realistic edges that replicate the rounded and decorative edges typical of granite or stone. These edges eliminate the brown line edges that were the giveaway in older designs. And, Formica is FSC Certified and GREENGUARD Indoor Air Quality Certified as a low-emitting product.
With a broad array of colors styles and options, Formica offers some interesting solutions when mixed with other surfaces within the same space to create "zones." Formica may surface a kitchen island where seating is arrayed, then be swapped out with a marble slab for a baking zone or butcher block for food preparation. These innovative options give homeowners the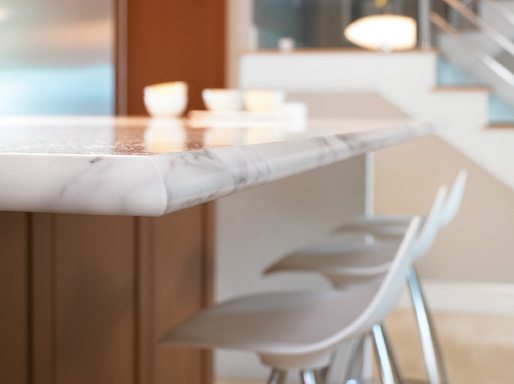 chance to get the look they desire while saving money. That extra budget can allow for appliance or cabinet upgrades in the kitchen, what Roush calls "a save and splurge approach that works, when it's done right."
Other surface areas can be enhanced with Formica. Baths and laundry rooms pop with the selection of the bright 100-year Anniversary Collection designs. A family room or "man cave" can coordinate team colors as a focal point using Formica surfaces that are tough and easy to clean. Outdoor kitchen areas become inviting and colorful when Formica is used for cabinetry and shelving.