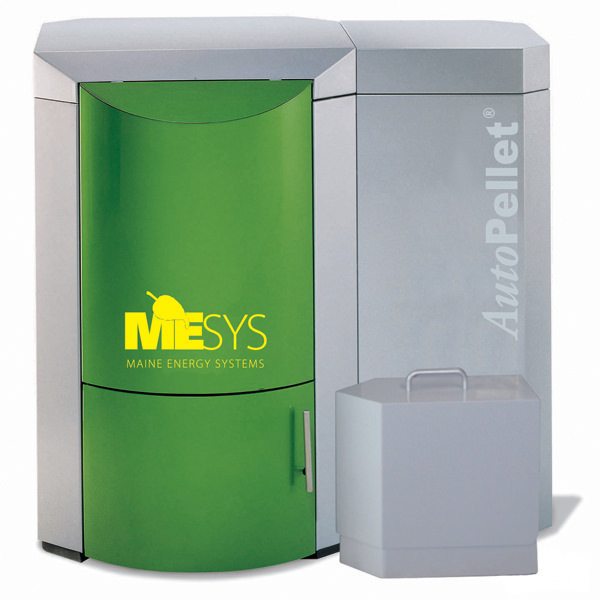 Automated Wood Pellet Boilers Are Sustainable, Effortless and Cost-effective
OAKFIELD, Maine, May 16, 2013—Katahdin Cedar Log Homes and Maine Energy Systems (MESys) have teamed up to offer customers in Maine, New Hampshire, Vermont and Massachusetts significant savings on a MESys wood pellet boiler for their new or existing Katahdin Cedar Log Home. The fully-automated MESys system offers immediate savings of up to 50% over the cost of fossil fuels, with fuel pricing guaranteed through at least June 2014.
"In MESys, we found another Maine company that is as passionate as we are about energy efficiency and the benefits of moving toward sustainable fuel sources," said David Gordon, president and CEO of Katahdin Cedar Log Homes. "When installed in one of our energy efficient log homes, the MESys AutoPellet boiler provides substantial energy savings at a time when other fuels are rising in price year over year," he explained.
In celebration of the company's 40 Year Anniversary, Katahdin is offering the fully-automated MESys system to their customers at their cost through the end of 2013. One of the company's distinctions is their ongoing commitment to sustainable and green practices, and as a result, Katahdin has a certain affinity for sustainable ways to heat their log homes. Notably, Katahdin uses an industrial biomass boiler to recycle the wood sawdust created at the mill complex to heat the mill buildings in a way very similar to the automated MESys wood pellet boilers.
"Katahdin is another great Maine based company that shares our environmental goals," said Les Otten, president and CEO of MESys. "We felt it made sense on a number of levels to develop a complementary relationship," he explained. "In New England, we are so dependent on expensive fuel oil and propane to heat our homes in the winters. With MESys' fully-automated wood pellet boilers; easy access to wood pellets and the renewable biomass to make them; and a convenient hands-free way to deliver the wood pellets to each home, we are keeping fuel dollars in the local economy," Otten said.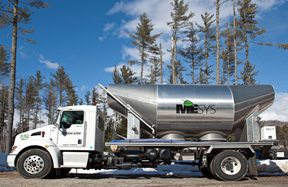 The MESys AutoPellet boiler is effortless to use and provides fully-automated central heating and domestic hot water. MESys offers convenient pellet fuel delivery using specialized trucks that deliver the pellets in much the same way oil is delivered to homes. The wood pellets are stored in specially-designed bins that occupy about the same space as two oil tanks in the typical house and are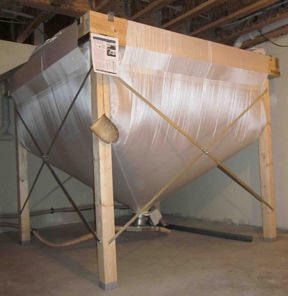 directly fed into the boiler system.
Because wood pellets burn so cleanly, the only maintenance is emptying of the ash compression box several times per year, this is a quick and clean process and the ash can be used as a fertilizer in gardens. MESys has negotiated a low wood pellet price point through mid-2014, with similar pricing anticipated over the next contract period. The wood pellets presently cost homeowners $239/ton or the equivalent of $1.99/gallon of fuel oil— significant savings when compared to traditional heating fuels used in the Northeast.
Headquartered in Bethel Maine, Maine Energy Systems primary mission is to support a transition to the use of renewable wood pellet fuel for heating of homes, businesses and municipalities. This fuel transition not only lowers costs for users, it also helps retain and create jobs in the region while significantly reducing the region's carbon footprint.
For more information, visit: www.maineenergysystems.com
Founded in 1973 by Foster Gordon and two associates, Katahdin Cedar Log Homes is one of the largest log home manufacturers in the U.S. and is the largest processor of Northern White Cedar in the world. The parent company, Katahdin Forest Products, also operates Katahdin Cedar Fencing and Cedar Ideas, a garden accessories company. David Gordon continues his father's legacy by providing high quality, cedar log homes, fencing and other products at affordable prices. Based in Oakfield, Maine, Katahdin Forest Products has more than 80 employees.
For more information, visit: www.katahdincedarloghomes.com