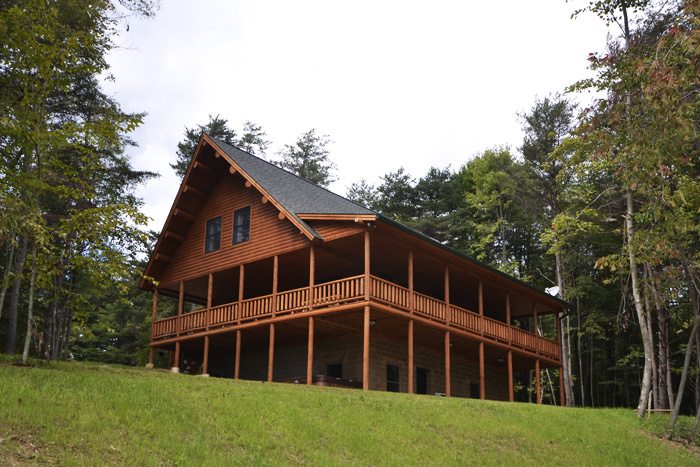 Many log home enthusiasts are exploring new ways to realize their dream of log home ownership. If a vacation or retirement home is the way you envision your log home adventure, designing to appeal to a vacation rental market may enable ownership sooner than you think! By selecting a location wisely, the income from a well-appointed and positioned log home can provide the cash flow to pay the mortgage and ultimately provide a source of income.
This interesting option came to our attention at a recent Log Home Seminar held in the resort area of Hocking Hills, Ohio. We spoke with the Katahdin dealer who hosted us, Steve Dearlove owner of The Dearlove Co., based in Thornville, Ohio. Dearlove's rental agent Kevin Claus, owner of Cedar Grove Lodging, in Hocking Hills, also shared some of the ins and outs of vacation rental properties from a management and business standpoint.
Start with Research
Dearlove emphasized that good research should be the foundation of determining whether to build a log home for seasonal rental. There are a number of factors to keep in mind when exploring options.
According to Dearlove, the most important element to identify is the financing. With a potential business angle in rental income, the loan could be a commercial loan. Or if the structure will also be owner-occupied some of the time, a residential loan may also work.  Meet with a mortgage loan officer to discuss options and rates before setting anything in stone. Once a budget is roughed out, the next phase of research can begin.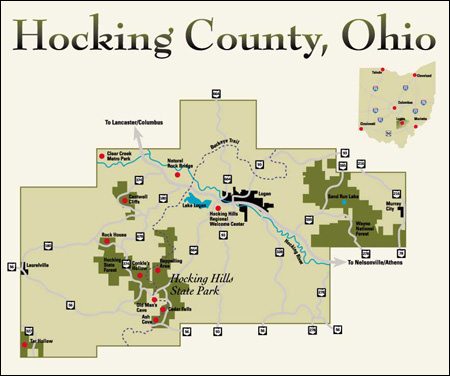 Location is always an essential consideration in any real estate project. Dearlove said that the location in relation to amenities or attractions plays a significant role in the ability to maintain a steady rental occupancy rate and finance the structure.
If the plan is to vacation or retire in the location, you'll want to be somewhat familiar with the area and its attractions.  Pick an area you love to spend time in, and take a look at offseason activities and amenities that would appeal to you, as well as guests.
Attractions might include bodies of water for water sports, parks or monuments with a strong visitor flow, golf courses, abundant natural beauty, easy access via transportation, and potential as a year-round magnet for vacationers. For example, building in the mountains might include a nearby ski resort for winter sports, or great hunting options in the fall or spring. If you plan to retire there, also include healthcare proximity, and year-round services in the mix.
Once you identify the area in which to build, talk to the local Chamber of Commerce, Convention and Visitors Bureau or tourism office. These organizations should be able to tell you more about the demographics, interests, as well as ebb and flow of visitors.  You may find that the time of year you typically visit is not the biggest draw of tourists, or you may find that the summer or winter season is the only time when rentals will be in demand.
Examine the Business Side
As someone who owns and manages properties in both Ohio and Tennessee, Claus said that it's important to treat a rental log home like a business to be successful. His background in corporate life helped him to identify the need for setting up a limited liability corporation for the real estate and management sides to limit his personal liability and protect the physical assets. He credited a smart lawyer friend who walked him through the startup. "The biggest mistake I see is when you don't view the business as a long-term investment. It's not a get-rich-quick scheme," he said. "If you invest the time and money in the upfront costs, over time it will become more effortless."
Claus also cautioned that if you plan to build a rental log home, that you check local hotel and hospitality codes in the township, city, and state where the property is located. In some instances, short-term rentals are not allowed for properties that are not licensed hotels. Be sure to check for the specific governmental body for location. In some locations, a rental manager must be a licensed real estate broker; in others that requirement is waived for owner-operated rentals. Don't try to skirt these regulations, as local authorities often scan new listings on rental websites and could shut the operation down.
Claus said that the increasing presence of the internet has enabled his and other rental businesses to thrive. He handles nearly all of his transactions through email, website and cell phone communications. Even the checking in process is simplified via electronic lock systems that he operates remotely through a smart phone app. (See electronic lock story, also in this issue.)
There are multiple resources that address vacation rental challenges and solutions, such as budgeting, cleaning services, property management and rental policies. Rental policies are especially important to develop early on, as they become part of the contract with the renter, and can resolve most disputes before they become problematic. VRBO.com and Homeaway.com are good sources for rental pricing in certain markets as well as places to market your own property. Other home forums such as cottagebloggers.com offer tips for developing a successful business and produce a monthly podcast by subscription.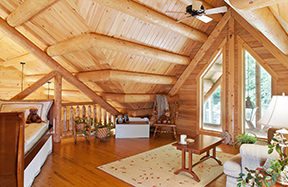 Good Design is Key
Dearlove said once the general area is selected, the actual building site can affect the rental income and continuity. When looking to rent and visit attractions, visitors will select a property closer to the action when it meets their needs. Therefore, it becomes a balancing act between location, potential renters and the location in which you want to spend vacation or retirement time.
When it comes to design for a rental log home, it's a completely different process when compared to a year-round family home. For example, because guests are not staying for a long time, lots of closet or storage space is generally not a factor.  However, you'll want to set aside a good-sized closet to store your own personal items to use when the home is not rented out.
The arrangement of rooms can also be a factor in the success of a vacation rental property. Rentals typically locate the master bedroom on the second floor or well away from the common areas of the home.
Does size matter? It does, depending on the type of income you're looking to get. Dearlove said that smaller log homes—say a 1-2 bedroom plus a loft— rent consistently but for a lower rate. Larger homes with multiple bedrooms that might host four to six families rent less consistently, but will demand higher rents and even out over time. Some owners with larger parcels of land opt for a large  "lodge" type facility with adjacent smaller cottages.
The selection of the land will also determine elements of the design. Smaller parcels may be limited by code to holding a single structure. Larger parcels with appropriate zoning can accommodate multiple buildings and add to the rental appeal.
Whenever possible, Dearlove said, a walkout basement can add extra living space without much extra expense. Added living space adds to the rental appeal of the property. Decks and covered porches are also an important element to the rental property, as guest are on vacation and often wish to spend much of their time outdoors. Amenities like gas grills, hot tubs, outdoor kitchens, swimming pools and fireplaces all create a fun and inviting atmosphere.
Inside, Dearlove recommends a large kitchen with durable countertops and an open concept plan as guests tend to congregate around the kitchen area. A counter with bar stools or a multi-purpose island that can serve as a quick breakfast or lunch stop is a great planning tip. Kitchen appliances must be good quality and durable. A large refrigerator, stove, dishwasher, microwave and in-sink disposal are amenities that most renters demand and make up positive selling points. Laundry facilities are not necessary for the rental unit, but if you plan to ultimately live in the log home yourself, plans and plumbing should be included in the design.
Bathrooms are another essential element to a rental log home. Full or three-quarter baths are a necessity for each bedroom. Often, an interesting shower and well designed his-and-her sink areas can be particularly appealing and help to increase rental. A shared "Jack and Jill" bath can also be employed between two bedrooms, with good planning.
Garages are not a necessity for renters, but your own needs will ultimately require one. Consider a separate carriage house that can function for storage of lawn equipment and other owner items, and later be used as a garage. If designed well, this extra space could be a separate "nanny apartment" for renters needing a little more space.
Both men conclude that rental log homes can be a great way to achieve your ultimate goal of log home ownership, if you approach it with a good strategy.