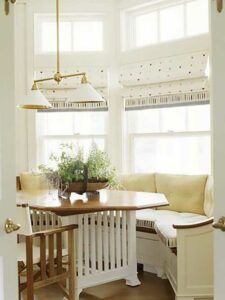 One way to maximize space in a kitchen and provide a cozy spot for eating is including a breakfast nook in your Katahdin Cedar Log Home design. A breakfast nook isn't just for breakfast but can also be an enticing place to do homework, catch up on household bills or host the family taco night.
Windows for Light and Ventilation
Many breakfast nooks are designed in a curve or corner of east-facing windows for morning gatherings. A traditional style of nook includes built-in bench seating in front of the windows, with a fixed or moveable table and extra chairs for the non-window side. Round or oblong tables can make the window seats most flexible for large and small diners.
Window Seat Storage
Built-in benches with lift-up lids can be the perfect place to store seasonal linens, seat cushions, and kitchen towels. These storage compartments would also make great oversized service dishes used infrequently on special occasions. Another option would be to leave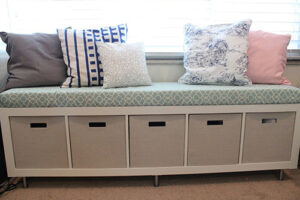 the benches open to the front. Storage baskets that pull out are another storage solution for children's toys, shoes, boots, or beach towels.
Mix and Match
Turn the breakfast nook into a casual dining destination with mixed and matched chairs, table design and colorful cushions. If the space behind the nook is a wall, found objects or collectible kitchen gadgets can complete the fun, engaging space. Select pendant lighting that is controlled with a dimmer switch can set the mood for whatever activity is planned for the nook.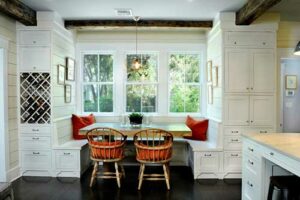 Game Night Destination
Setting up your breakfast nook for board games or puzzles is one way to enjoy a cozy breakfast nook in the evening. Once the games are done, tuck the board games and snack dishes away under the benches until next time!
The possibilities are endless with a chic breakfast nook in your Katahdin Cedar Log Home!