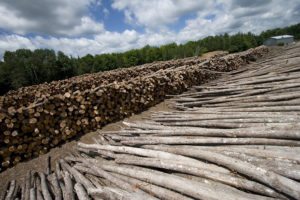 Climate change offers challenges as well as opportunities when considering the best way to live and work in the world. Increasingly, consumers are assessing what their carbon impact on the environment is for  everything from transportation, food and shelter. Carbon footprint is defined as the amount of carbon dioxide emitted by an entity.  Our focus, of course, is the shelter component of the carbon footprint equation. Limiting or offsetting carbon in the environment is becoming an essential part of construction. Improving energy efficiency is just one component of addressing the carbon equation.
Wood is the Carbon Neutral Option
As it turns out, constructing with sustainable wood products is a great way to address your carbon footprint. Residential construction is now working hard to address this criteria of limiting the amount of carbon used in manufacturing or harvesting the components of a structure. But don't stress too much, because your choice of a Katahdin Cedar Log Home can play an oversized factor in reducing your carbon footprint. It all comes down to the selection of Northern White Cedar and Katahdin's commitment to environmental best practices.
What's So Special About Northern White Cedar?
It's no surprise that trees are the perfect carbon offsetting organisms. If you recall your basic botany, trees absorb carbon dioxide and transform it into oxygen through photosynthesis. The carbon remains stored inside the tree, essentially turning the carbon calculations in reverse when used for shelter. Contrast that with other building materials like bricks or concrete, which produce a significant amount of carbon emissions when manufactured. Northern White Cedar has an additional benefit as a sustainable resource. It's one of the least threatened species in North America and regenerates quickly without human intervention. It thrives in wet areas where other trees do not. Cedar is naturally resistant to insects and rot that can adversely affect other wood species.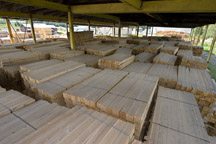 Whole Log Construction Means Greater Carbon Sequestration
Because Katahdin utilizes whole log construction, the carbon equation is more favorable than construction that uses log siding and traditional stick built construction. It may look like a log home, but the carbon footprint is much higher because of the materials hiding under the siding. By using the whole cedar log's inherent insulation and continuing with cedar paneling inside, our construction limits the levels of carbon used when compared to other techniques.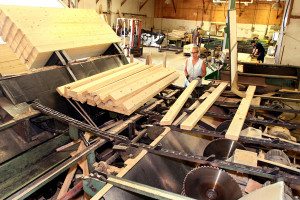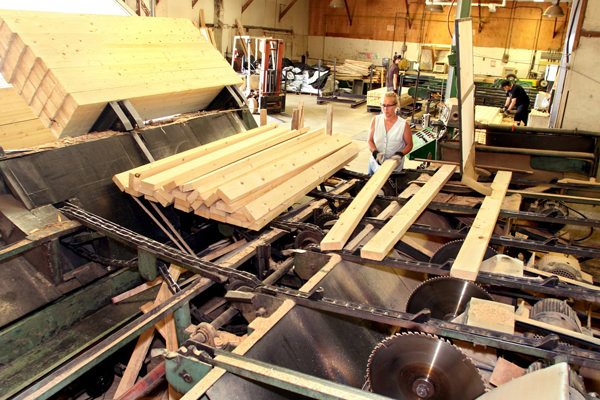 Using All The Tree
Another component to the carbon footprint equation is what carbon is emitted to process the raw materials into the final product. This is where Katahdin's commitment to less waste provides its environmental benefits. We've developed a full circle ability to use the entire cedar tree to create useful products and generate steam heat. With this comprehensive approach, Katahdin has reduced its fossil fuel consumption by 97%, while essentially eliminating additions to the waste stream.
Maine: In the Center of Forest Products Innovation
Katahdin's location in Maine's largest and most northern county— Aroostook—puts us at the forefront of technical innovations involving wood fiber and products. These new wood-fiber based technologies enhance our log home structures by offering additional ways to turn the carbon dial back when constructing a new, custom log home. In a series of articles, we'll be sharing several of these innovations that can reduce the carbon footprint of a log home by using wood fibers in new ways.