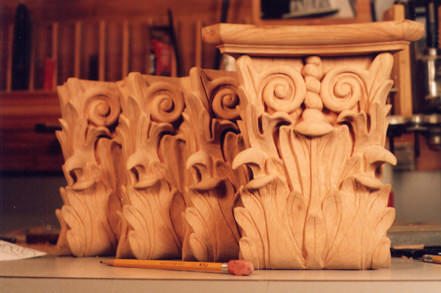 If you're looking for a way to make your Katahdin Cedar Log Home unique, one place to start might be with an architectural carver. We spoke with Justin Gordon, owner of Elwin Designs about some of the projects —large and small— he's completed for his customers.
Gordon's designs are thoroughly unique and are the result of a collaboration between him and his customer. "Many times, my customer has an idea, but doesn't know what it looks like," Gordon explained. While that may sound strange, Gordon has a way of teasing out ideas by brainstorming ideas based on client preferences, likes and plans for the piece. "I often talk to folks about their favorite animal or fish, or a kind of decoration. We let the ideas flow naturally," he explained. Once they settle on a possible idea, he'll provide a sketch to explain the idea visually. "I always provide a sketch of all views of the piece, so the customer understands exactly what he or she is getting," Gordon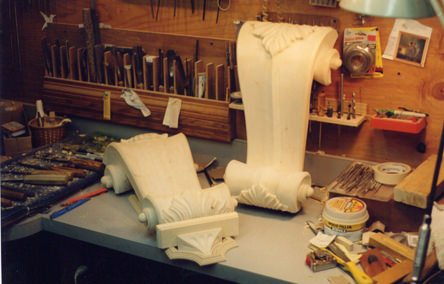 said.
Many times it is the scale of the design that is the most challenging aspect to sort out. Gordon has the owner measure the location and surrounding elements for a baseline for sizing the piece. But sometimes, he may rough out a cardboard or foam mock-up to see how the wood feature will balance with the other elements around it.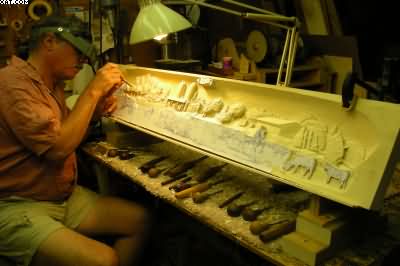 Ideas to develop
Gordon has created multiple carved designs for many places within the home. For larger projects he may start with a chainsaw to remove excess wood from the sculpture, but his pieces are always finished with hand tools to create the fine carved pieces he is known for. Wood carvers who rely exclusively on chainsaws and a special carving fitting called a "dime" or "carving pip" will produce a carving that has a much more rustic finished look and feel to it, when compared to the pieces that Gordon creates.
There are many locations within a home that can benefit from a hand-carved element. For two story homes, a single carved finial at the top of a stair post or series of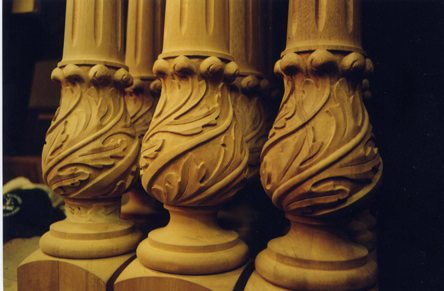 carved newel posts in a staircase can add visual character. Katahdin log homes often feature dramatic purlin roof systems. A beautifully carved corbel (top right) or hanging finial (see sketch and bottom photo) can add a stunning grace note to the soaring purlins of a Katahdin log home.
Mantels offer a good wood canvas for a woodcarver like Gordon. He can provide graciously carved capitals to support the mantle piece. Scrolled corbels can also provide a statement mantelpiece with support. Gordon has also created intricate bas-relief carvings of a customer's homestead, featuring trees, pastures, animals and the actual home itself.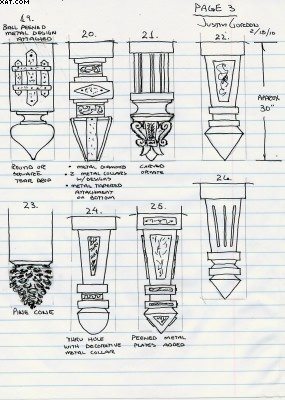 Dramatic Embellishments
Homes with an open concept might benefit from a dramatic carved central post or column paired with a loft or spiral staircase. These carved elements require a larger-scale trunk of wood that can be transformed into a playful column of woodland creatures to add whimsy to an open great room. Or, the carving might take cues from one of many styles of design from rococo to art deco.
Once the idea and concept is narrowed down, Gordon will submit a detailed sketch of all views of the project for review and approval of the customer. Gordon selects the wood based on a number of factors: compatibility with surrounding materials, hardness, availability and input from the customer. Sometimes, the customer will have already sourced the wood and will transport it directly to Gordon's workshop. "Sometimes half the fun is overcoming the challenges of getting the raw lumber into his workshop," Gordon noted.
Overall Gordon banks on his positive approach and communications with his customers to ensure everything—from ideas, to drawings, to final execution—meets expectations.