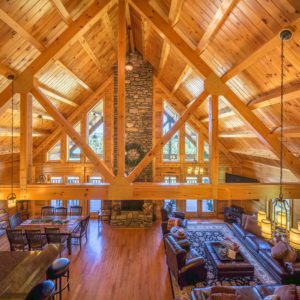 We love the soaring cathedral ceilings that are a distinctive feature in Katahdin Cedar Log Homes. But cathedral ceilings get a bad rap when it comes to approaching the heating season. These old school myths about cathedral ceilings can be overcome with good heating and cooling system planning and informed use of ceiling fans to circulate air and manage air flow.
What are the dynamics of a cathedral ceiling?
Elevated ceilings work well in the summertime to help keep cool by giving warm air a place to rise to. Warm air tends to rise when nothing's directing the flow within an enclosed space. The trick is to capture the warm air and direct it to where it can be managed and distributed where it's needed— where the people are.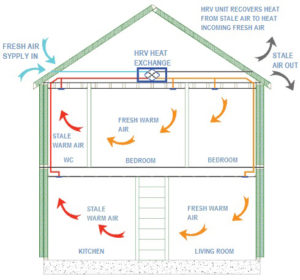 Start with warm air returns & mechanical ventilation
Your HVAC contractor can install warm air returns near the top of great room walls to draw in warm air. The warm air is directed down to an air handler or energy recovery ventilation (ERV) unit. The ERV maintains a constant flow of fresh air into the home while capturing the energy (heat) and excess moisture in the recycled air before exhausting it outside. The refreshed and preheated air passes back into the heating system, reducing the energy load and increasing efficiency. Another kind of ventilation system often used in drier climates is called a heat recovery ventilation unit or HRV. It works on the same principle but doesn't remove excess moisture.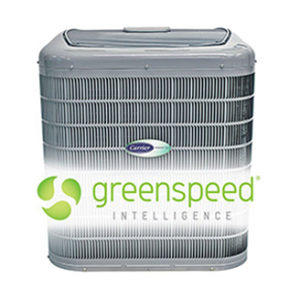 Select Energy Efficient Heat Pumps
One of the complaints of old fashioned cathedral ceilings was that they increased heating costs, especially using traditional furnaces. But combining  a well-sealed Katahdin Cedar Log Home with  an Energy Envelope System, the efficiency savings can offset any concerns about high fuel prices. One super-efficient heating and cooling option is a Carrier Infinity Heat Pump with Greenspeed paired with an ERV system. The Carrier heat pump features an infinity speed fan that operates at speeds from nearly zero to 100 percent. The fan senses the amount of energy needed inside and operates only enough to maintain the desired temperature. Compared with an old school furnace that runs only two speeds: on 100% and off, the energy savings are superior!
Employ Smart Ceiling Fans
Don't forget the highly functional ceiling fan as a means to control airflow in a cathedral ceiling room. Sleek, electric Haiku Ceiling Fans made by Big Ass Fan Company operate noiselessly and are controlled via remote or smartphone. The trick is to adjust the flow direction when the seasons change. In summer, a

downward flow from the fan will create a slight windchill on your skin, which will make the room feel 5-7 degrees cooler. Accordingly, with the ceiling fan operating, you can raise your AC thermostat by 5-10 degrees without losing any cool comfort effects. During the heating season, reverse the flow up toward the ceiling. This airflow will push warmer air from the highest part of the ceiling out and down along the walls. This ceiling-fan-created airflow will keep your cozy warmth where you want in the room. An upward flow directed ceiling fan can also help keep heat from building up uncomfortably in loft areas. With their top Energy Star rating, Haiku ceiling fans are a perfect efficiency booster for cathedral ceilings.
So, there is an easy way to enjoy the soaring open cathedral ceilings of our beautiful purlin and truss roofing system without sacrificing energy efficiency.