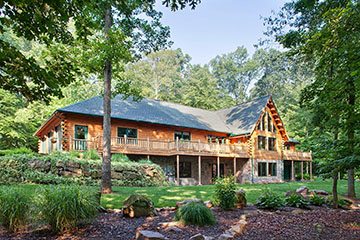 You may have noticed a return to a familiar theme recently in Katahdin Cedar Log Homes' advertising: "Cedar for the Price of Pine." It shines a light on one of the myths of log home selling: "Yes, cedar is great, but you'll pay twice as much."  True, if you're a re-packager, who purchases pre-cut logs and assembles them into a package. Like any commodity, when value is added through processing, shipping or just a middleman, the price goes up.
Katahdin, on the other hand, is truly proud of the investment we've made into our facilities as well as our human capital. Our goal from the outset was to utilize as much of the cedar tree as possible in the process of milling them into log homes of quality.  From the very beginning more than 40 years ago, Katahdin has cut waste and used the leftovers well before it was fashionable. These early efforts to use lower grades of logs and scrap for other purposes like fencing, garden accessories, playground sets and mulch, increased our cost efficiencies, and really enabled us to create several diverse markets to sustain the overall business.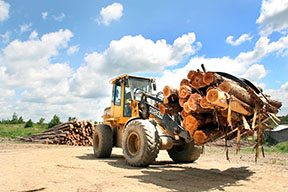 As a result, Katahdin Forest Products, our parent company, is the largest producer of Northern White Cedar products in North America. Our fence division is the leading maker of cedar fencing in the U.S. And, we are one of a handful of remaining "Original Equipment Manufacturers" (to borrow a term from other manufacturing sectors) of custom log homes in the country.

Where it starts — location, location, location
One reason that we are able to keep our cedar costs down is our location, right in the midst of the largest North American swath of Northern White Cedar, in Aroostook County, Maine. Our primary mill in Oakfield is set up to accept logs for processing and milling year-round. A few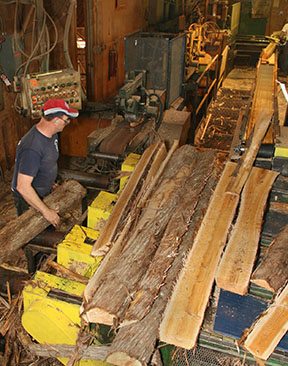 years ago we acquired a second mill in Ashland, Maine, which is further north and even closer to the abundant cedar forests. Cost efficiencies come into play when fully loaded log trucks arrive from the woodlands and off-load at the Ashland mill. There, the cedar trees are initially processed removing some of the material that is not used in production. The logs are also minimally shaped for transport to the Oakfield mill. The Ashland mill is important to cost savings because logging trucks can be fully loaded from forest to mill without having to meet lower weight requirements on state or federal highways. Fewer trips mean lower transportation costs.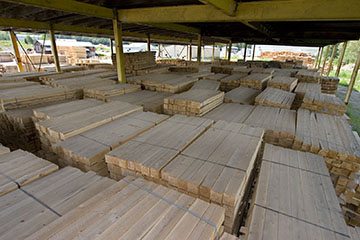 Katahdin also tries to identify and contract for the anticipated cedar needed in advance of the winter harvest season. Northern White Cedar grows abundantly and without any human farming intervention. Its natural habitat tends to be in marsh or wet areas, so harvesting with heavy equipment must wait until the ground freezes solid. Each fall, Katahdin's David Gordon hops in his truck to visit his network of loggers and landowners to identify and plan for the upcoming cedar harvest. Coordination of cedar loads and proper timing can also keep costs down.
Once the logs reach the Oakfield mill, they are further processed to prepare for the drying stage. Because cedar has such low moisture content, Katahdin is able to air dry much of the cedar enough to ready it for further production. Logs processed during wet months may require some finishing in the kiln to reach the ideal 10-12% moisture level. Unlike pine log stock, the kilns are not necessary to kill insects within the logs. (More about our kilns later.) Cedar's natural oils repel most damaging insects and act as a natural insecticide to keep cedar logs strong and pest free. In addition to the insect resistance, cedar also is highly resistant to mold, rot and cracking. Cedar's natural benefits, along with the highest R-value per inch of any log wall stock, make it a highly desirable material for home building.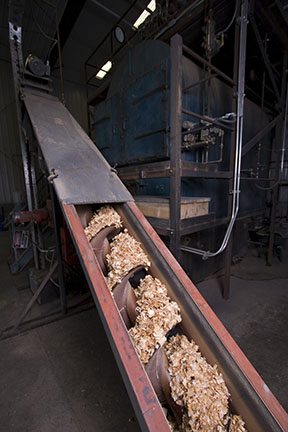 We are such Yankees!
Katahdin takes particular pride in our thrifty nature. It's in our blood to maximize the value of our cedar. So, we have found ways to use every bit of the tree. Initially, this involved finding uses for the tops of the cedars (railings and posts), secondary grades of logs (fencing, playground equipment, outdoor accessories), bark (mulch) and everything else (sawdust, scraps).
The "everything else" component is taken care of by our industrial biomass boiler. This system has allowed us to repurpose sawdust and small scraps as a source of heat—for both our mill buildings and for our finishing kiln. This biomass boiler system is computerized and —especially during the winter months —runs nearly continuously.  And the sawdust we once had to pay to truck away and dispose in a landfill, we can now put to use as part of our production. It's easy to imagine the savings we accrue over the years once we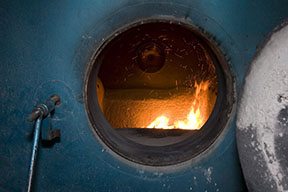 eliminated nearly 95% of our fuel oil consumption in Northern Maine winters.
With all the logistical, environmental, and innovative ways we use to get our cedar log homes to the market, it's no wonder that we can offer our beautiful Katahdin Cedar Log Homes to consumers for the price of pine.  It's Katahdin's original sourcing, in-house manufacturing, cost efficiencies, environmental benefits and smart thinking that keeps our costs down so that we can pass them along to our customers.