If you love the look and longevity of cedar in your outdoor accessories, you'll want to check out the new Cedar Ideas website. Since 1991, Katahdin's subsidiary, Cedar Ideas, has been handcrafting outdoor accessories. The sister company uses cedar pieces that are the by-product of log home manufacturing.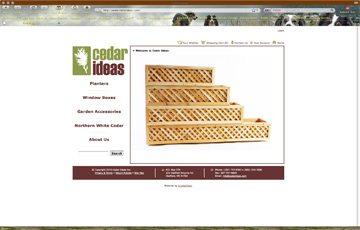 Until recently these planters, window boxes and planting tables have been wholesaled to a company with limited distribution. With CedarIdeas.com, our friends and customers can now shop, order and receive these products direct from the workshop in Oakfield, Maine.
With the unique natural properties of Northern White Cedar, crafting outdoor accessories with scraps from our log home manufacturing line makes perfect sense to us. Cedar contains natural oils that make it durable—and protects the wood from rot, mold, mildew and insect damage. Cedar weathers naturally to a smooth silky surface, and if unstained will remain a silvery gray color. Cedar also possesses a porous cellular structure. This allows for lightweight yet sturdy benches, planters and window boxes. This air-trapping cell structure also is responsible for its superior insulating properties when used in a log home,
Cedar Ideas makes use of previously discarded material, and fits neatly within Katahdin's green initiatives: to utilize as much of the cedar tree as possible. Cedar logs that arrive at the mill are graded for use as log wall stock, paneling, decking, fencing, Cedar Ideas outdoor accessories, or if the piece is smaller than 1.75 inches, ground with sawdust to fuel our biomass boiler.
We invite you to tour the website and we are confident you'll find plenty of outdoor accessories for your deck, patio and porch!