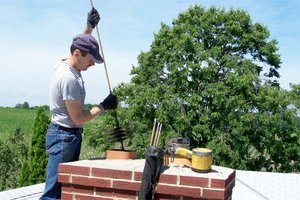 For many people building their first log home, a fireplace or woodstove is like entering new territory. Most people understand the normal household maintenance required, but adding a tall stone chimney as part of the great room requires a different kind of attention. More importantly, proper, routine maintenance of the chimney flue can prevent chimney fires, a common source for domestic fires. Another benefit: a clean chimney and hearth will burn fuel more effectively!
What does a chimney sweep do?
A chimney sweep will inspect and clean every aspect of the stove, fireplace and chimney assembly. The sweep uses specially designed equipment to remove ashes and combustible residues from several locations, including ash dumps, the fireplace and the flue. In addition to the equipment, he will also use drop cloths and specially filtered vacuum cleaners to collect the results, without damaging interior spaces.
The sweep will inspect the entire chimney assembly to ensure proper sealing, airflow and to remove any blockages. The sweep's inspection should include a rooftop inspection of the exterior of the chimney, the chimney cap, flanges and weather stripping. This inspection can help to prevent damage to the chimney and the home from leaks, freezing water damage or improper venting. The latter can allow carbon monoxide to rise to dangerous levels within the home.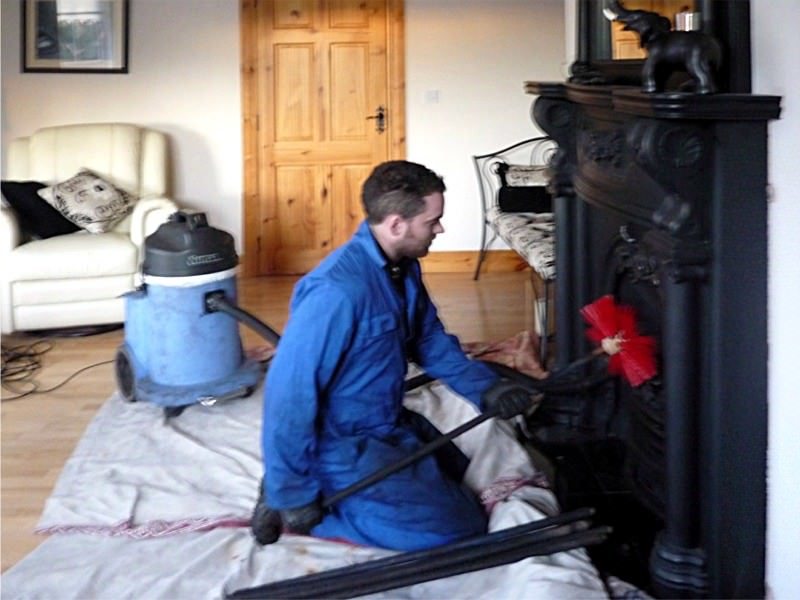 The cleaning process will use various implements to remove build-ups of three combustible residues that are a by-product of wood burning: soot, creosote, and glaze. Soot is a soft substance that contains carbon particles and ash. The carbon is combustible; ash is completely burned and not a fire hazard. Creosote is a flammable by-product of incomplete combustion. It can build up as curly, flaky, or even bubbly deposits. Glaze is the densest of these residues and will form a shiny, tarry coating. Glaze is also flammable and the most difficult to remove.
Hiring a Chimney Sweep
Start with personal recommendations from friends and neighbors. Sometimes the local wood stove shop will have a list of chimney sweep service companies. The National Chimney Sweep Guild (NCSG) offers a "Find a Member" function on its website. NCSG members agree to a code of ethics and professionalism standards. Many sweeps are one-man operations, so it's important to get references. The chimney sweep should be bonded, to protect the homeowner from any liability, should an accident or damage occur. Upon completion of the inspection and cleaning, the chimney sweep should provide a written report of the services and any problems or issues repaired. Once the work is completed, the chimney sweep should clean up his equipment and ensure that no trace of his visit be noted.