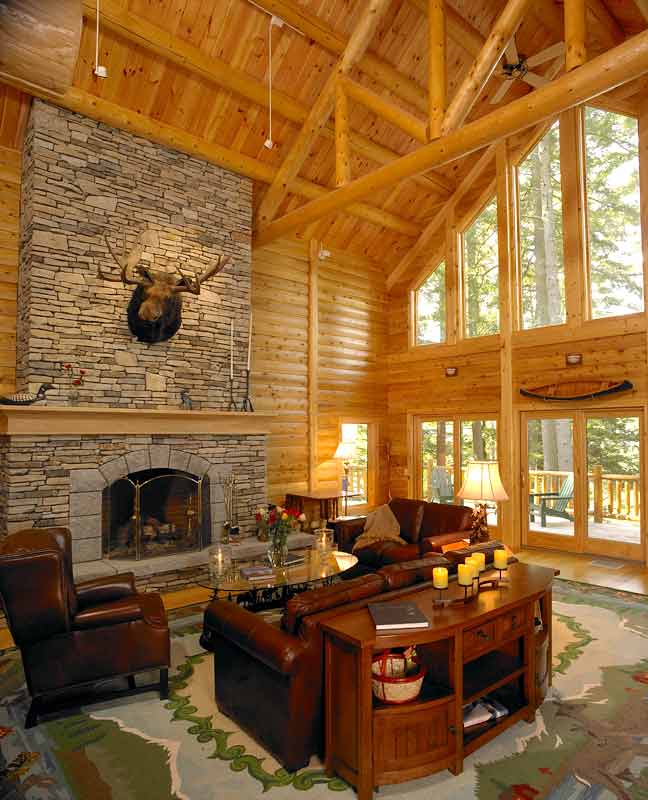 Making the move to your Katahdin Cedar Log Home is an exciting one, but don't feel like you have to toss out all your "city" furniture to make the move to your more casual log home lifestyle. Here are some tips on making decorating selections that will fit in your new log home.
Mix styles for visual interest. Your log home interior presents a canvas of beautiful wood tones. Warmer wood pieces will complement your log walls, while darker woods will provide a pleasing contrast. Upholstered furniture, such as couches and chairs, can be updated with new fabrics or brightened just by adding some new throw pillows as accents. Contemporary furniture, leather couches, and easy chairs can all make the transition easily.
Look for clean lines and elegant proportions. Antique pieces—especially family heirlooms—are well-suited to log homes, especially those with clean classic lines like early American, Mission, Shaker and Arts & Crafts styles. Victorian or Empire pieces as stand-alone focal points can add drama with their detailed wood features and rich, outsized silhouettes. If you have a functional piece like a chest of drawers or table that doesn't seem to fit in its present state, consider refinishing it or apply a faux finish or "weathered" paint to give it a fresh look.
Add vertical pieces. Your log home walls present a horizontal background, and much of your furniture is also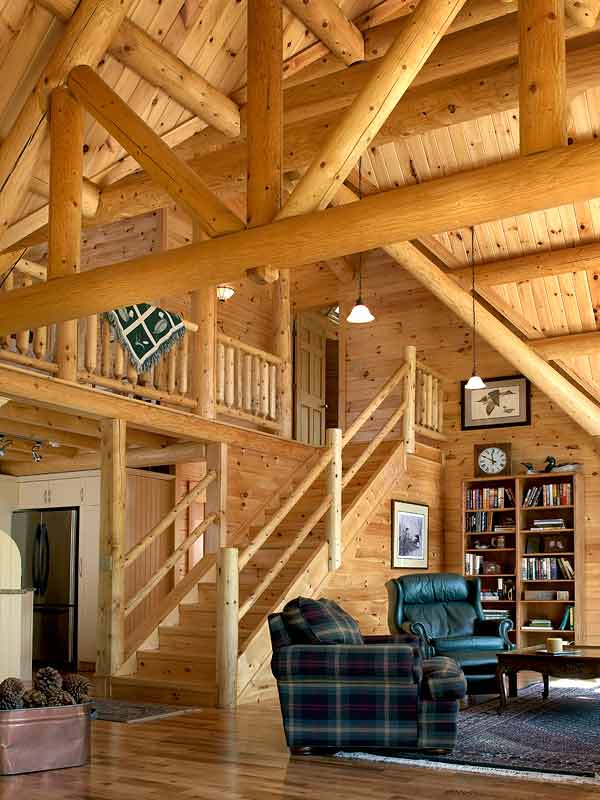 horizontal: couches, tables, benches. Adding vertically proportioned piece like a Grandfather case clock, an armoire or a folding screen can help to break that horizontal plane and add pleasing contrasts.
Open plans require a different approach. Chances are that your "city" digs were designed with single-purpose rooms arranged in a useful flow: dining room, living room, kitchen, family room. Many log homes are now designed with open spaces: great rooms holding the dining area, kitchen, family room, and living room. Open areas mean less wall space for defining these functional areas. One way to create more definition in open spaces is to choose focal points, such as the fireplace, and group pieces in relation to the focal point. Use area rugs to gather pieces into a defined space and place console tables or screens around the edges to delineate areas and break up the larger space.
Make sure your log home design allows space for key pieces. There's nothing worse than realizing that your new home doesn't have a big enough corner for your grandmother's corner cabinet. Take an inventory of important pieces: large paintings and cabinets or armoires that need wall space and make sure you have a wall area set aside to accommodate these special pieces.
Take your time with decorating your new home. Sometimes you just can't tell how sofas, chairs and other furniture will look in your new home until you're there. If something doesn't quite fit, you'll have plenty of time to find the right one, now that you're done with building your home!