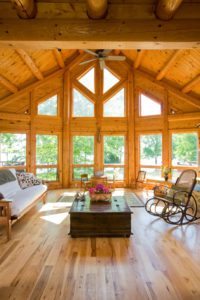 Those gorgeous cathedral ceilings, purlins and trusses in Katahdin Cedar Log Homes will require routine cleaning. We've found some tools and techniques to get you started with cleaning your cathedral ceilings.
First, while it may seem cost-effective to leave the interior cedar tongue and groove natural, at minimum it's smart to apply a clear sealer to the bare wood. Even though it is sanded smooth, dust and cobwebs will stick to the bare wood more easily and dirt will embed into the grain, making it difficult to remove. Applying a smooth sealer will keep the wood looking fresh for years to come and make cleaning a breeze.
The Right Tools for the Job
When it comes time to clean those vaulted ceilings, beams and ceiling fans, it's a good idea for do-it-yourselfers to have the right tools. Here are some great innovations:
Telesteps Telescoping Combi Ladders — These versatile telescoping ladders are perfect for cleaning the difficult-to-reach areas in your cathedral ceilings. The 14 ES Combi Ladder is a 10-foot step leader and extends to 14 feet as an extension ladder. It telescopes down into an easily stored unit and weighs in at just 37 pounds. Its locking telescope joints are equally stable on stairs and floors. When fully extended, the Telesteps allows you to reach your ceilings for cleaning. These ladders feature wide steps for comfortable and safe footing.
Unger 20" Connect & Clean Telescopic Cleaning Pole — These poles extend your reach and have a wide range of compatible Unger accessories that lock onto the end of the pole using a unique connection system. The microfiber duster for ceiling fans (left) is a must-have accessory, along with Click & Dust Multi-Purpose Dusting Kit™  featuring dust zapping microfiber and an angling option for wider dusting areas on the ceiling.
Safety Glasses will protect your eyes from falling dirt dust and material as you look up to clean.
Plan Your Attack
Once you've assembled your tools, it's time to plan your cleaning approach. Start at one end and begin with cleaning a rectangle of ceiling at a time. You'll be able to use the edges of the ceiling boards as a guide to sweep evenly back and forth. Plan to take frequent breaks, as this overhead upper body work may stress unfamiliar muscles in your arms, shoulders and neck. The microfiber dusters will need to be shaken out frequently as they collect the dust.
When you're finished cleaning, all these telescoping tools and ladders store away in very little space!