Once the necessary element to any main room in a home, clocks are now relied on less for their ability to tell time than for their acknowledgement to the passage of time and beautiful craftsmanship, both with chimes, tick-tocks and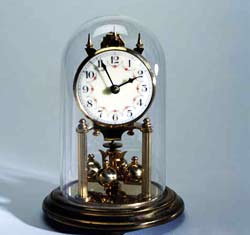 movement.

Traditional clocks
Many families are fortunate to have an heirloom clock that has been passed from generation to generation. The modern gift tradition for the first wedding anniversary is a clock. Many families have an 'anniversary clock,' often a brass clock under a glass dome with open clockworks. These clocks are wound once a year, another reason for the term 'anniversary.' These types of clocks are beautiful tabletop or mantelpiece accents.
A more grand statement is the grandfather or tall case clock. Antique case clocks can be quite expensive and difficult to maintain, but modern handcrafted clocks are available from one company, Howard Miller. Their site offers a wide range of traditional and modern styles. For the case clocks, the website offers visitors the ability to listen to selected chimes. Antique and modern case clocks offer a nice vertical element that is especially attractive in log homes because of the strong horizontal nature of the log walls.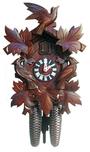 Cuckoo clocks were quite popular in the early part of the century as soldiers returned from Europe with these intricately carved clocks. Their whimsical design including forest motifs and woodland creatures, along with their distinctive cuckoo chime, make them an attractive addition to a log home with a rustic feel. Cuckoo clocks can be petite or as large as 19 inches tall. Cuckoo clocks need to be hung in an area high on the wall, that allows the weights to drop to the floor without interference.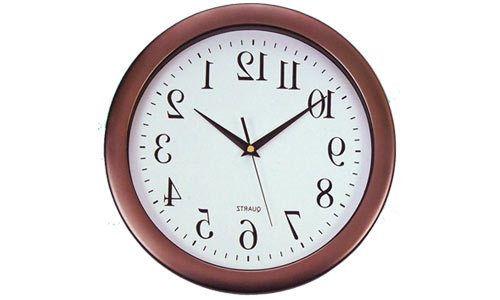 Add a little whimsy
Many grown up "kids" have fond memories of their grandparents' "backwards clocks." It's a normal-looking clock, until closer inspection reveals the numbers are reversed and the hands move in counterclockwise direction. It keeps perfect time, but takes some skill in learning how to read.
>Other clocks that were used for advertising promotions for early 20th century products like soda, dog food, farm products, etc. These clocks can be found at flea markets, on eBay and other websites. Other replica clocks can be had in specialty shops as well.