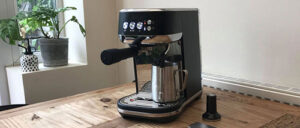 With all the drama and accessories surrounding our daily cup of coffee, Katahdin Cedar Log Home owners take their love of the bean to new levels by creating coffee stations.  The best thing about this trend is that coffee can become a part of just about any room in the house.
Love your cappuccino but don't need to see it all the time? Dedicating a cabinet to your caffeinated addiction keeps the prep close at hand but can be closed when not in use. Specify a cabinet with a pulldown door to conceal the coffee bar and keep your minimalist look intact. Be sure to include an electrical outlet inside the cabinet to power your coffee machine! For a great starter espresso machine try the Breville Bambino Plus that features easy operation and nine color options!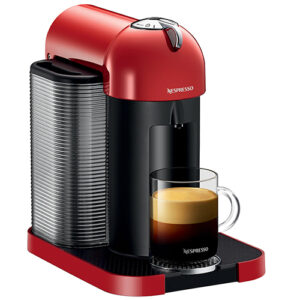 Outside Kitchen Take-Out
Your outside kitchen is equipped with a fridge, grill, blender and music— why not include your espresso machine as well? Position it near your ice maker to make delicious iced coffee all season long! Stock your outside coffee station with heavy duty plastic cups and covered drinks containers to keep breakage down.
Home Office Breaks
Your home office needs caffeination just like your old work did. But you can certainly upgrade those old Bunn-style commercial coffee makers — yuck! Try a sleek Nespresso brewer for delicious espresso style beverages to keep your production on point. We love the Nespresso Vertuo in red — the art deco styling reflects the lines of your log home!
Game or Media Room
If your man cave has a bar set up, add a coffee station to expand your drinks repertoire to include winter treats like Irish coffee Tom & Jerrys or hot toddies. Coffee drinks are always a great way to enjoy sports or to pump up for gaming sessions!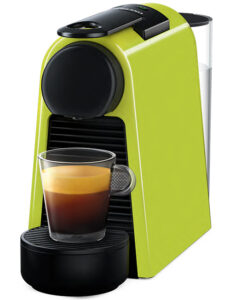 Master Suite
Remember those in-room coffee makers at the fancy hotel? Enjoy delicious café au lait in bed while waking up with the latest weather report with a mini coffee bar in the bedroom. Set up a tray with mugs, cream and sugar and get ready to go with a hot espresso. Check out this Nespresso Essenza Mini, which has everything you want and nothing you don't.
Take your espresso or cappuccino wherever you want in your Katahdin Cedar Log Home with a nifty coffee station!