Tiny homes are all the rage, with plenty of interest on cable television and Pinterest—but are you really prepared for the dramatic downsizing? Why not aim a little higher with a cozy log cottage with room for reasonable sized bathrooms and kitchens. We love the compactness and ingenious designs in tiny homes and they can certainly translate into a fully downsized home without the extremes.
Under 1,200 Square Feet
Take a tour of Katahdin's website and you'll find more than a dozen cozy cottage plans—some with lofts, two levels, 1-2 bedrooms and plenty of potential for making your downsizing dreams come to reality.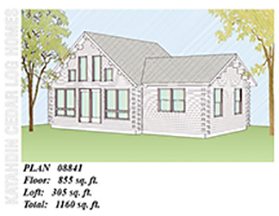 Tips for Maximizing Space
We'll take a look at one plan, the Baxter (#08841), which is a one-bedroom, one bath, home with a loft (at right). This has some of the features that can maximize small spaces. The main floor open plan holds the living/dining and kitchen. The single bath is accessed from the master and the kitchen. Cathedral purlin ceilings in both the main area and over the master bedroom makes the spaces feel large and airy. A loft area situated over the kitchen adds another 300 square feet of living area. This log home also features a small foundation footprint, which can keep costs down. The stairway to the loft can house some extra storage spaces or a cozy nook for a built-in bench and shelves. Lots of windows help to bring the outside in and when a deck area is added off the front or back, you'll have plenty of living area!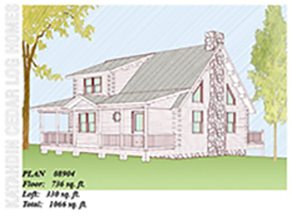 Take Advantage of Sloping Land
Another way to maximize a smaller footprint home is to utilize sloping land to accommodate a walkout basement, as shown in plan the Bradbury (# 08904). This home (at left) features a main floor area of 736 square feet with a 330-square-foot open loft for a total of 1,066 square feet. The walkout daylight basement could add another 736 square feet of living area as well as moving heating and cooling mechanicals to the lower level and out of the main level. This design features a cool fireplace and front porch area for added charm.
These homes are just two examples of designs that are not much bigger than the typical tiny home of 500-750 square feet. The benefit is that the downsizing concept will still be quite dramatic for many families, yet allow for full-sized appliances, bathrooms and living space.
No Limits to Design
If you have a particular extra-small log home design in mind, we can work with your sketches and ideas to create just the right cozy log cottage for you! Our Katahdin design team can modify an existing design to meet your needs. Let's get started!