>Thank you for considering Katahdin Cedar Log Homes for a second—or first—home! As a family owned business, we understand the importance of gathering families together and creating treasured memories for young and old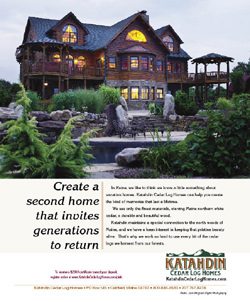 alike. A cedar log home provides a beautiful and practical way to return to the outdoors, without sacrificing comfort.Katahdin Cedar Log Homes has more than three decades experience designing fine cedar log homes. Through our national network of certified and trained Katahdin Dealers and Builders, we can meet and surpass your expectations for a home that embodies the values of Maine craftsmanship, integrity and common sense.
If you'd like to review our gallery of custom log home designs or find a Katahdin Dealer in your area, please visit our website KatahdinCedarLogHomes.com.
We'd like to find out more about your needs and provide you with detailed information to suit your circumstances. To request information, please click here.