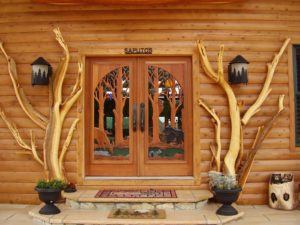 One dominant feature of log homes is their straight, horizontal log walls. And while we love the look of all that gorgeous wood, adding some curves to the features in your log home can elevate its character and visual appeal. Our customers have found many ways to incorporate a curving line into their stunning Katahdin Cedar Log homes. You may want to consider one or more of these in your own home!
Round the Corners— Most traditional entry ways are square or rectangular. Converting these openings to arches can upgrade your home's style and flair! Whether it's an arched front door or rounding the upper corners on an interior entryway, these curves can break the linear feel that dominates in log homes.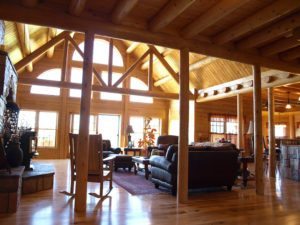 Custom Round or Rounded Top Windows— Adding a custom window or two to your home's design can provide big impact for not a lot of investment. You're already planning on lots of windows to bring the outdoors in, why not add a little whimsy to your window treatments? If your home design features vaulted purlin and truss ceilings, rounding the top windows can add a great style detail to your view inside and out. Or, consider tucking in round fixed-pane window to illuminate a stairwell or landing —or tuck one into your half bath or kitchen.
Mixed Media Circulars– Look at some of the other features in your log home that are not constructed from logs, including fireplaces, kitchen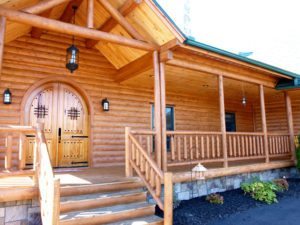 islands, walk in showers or other built-ins. Rounding out a square eat-in kitchen island can make you feel like the star in your own cooking show! Consider an arched fireplace opening or curving hearth for visual drama in your great room. In the master bath, consider a curved tiled wall on one side of a walk-in shower or follow the lines of a claw foot tub with a gentle curving wall for spa-like décor.
Outside Opportunities— The exterior and surrounding yard offer plenty of spots to add flowing lines. Put a curve or two into your driveway, rather than a straight plumb-line entrance. Round the corners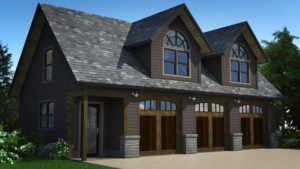 of your garage openings— an easy, inexpensive adjustment for overhead garage doors. Use curves in plotting out your landscaping, pool areas, and pathways. Adding little circular accents to exterior areas of your log home can also have a big impact. Adding a small porthole style window under the garage roof peak is one great option!
Adding "curve appeal" can really make your home uniquely yours! Make a note to talk to our design team about your ideas.