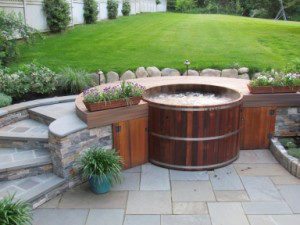 When we first spoke with the Meisners of Maine Cedar Hot Tubs in 2006, they were getting started on marketing their original wood-fired hot tub designed for remote locations. Since then Stephen and his son Nahem have developed a following among hot tub aficionados across the country, drawn by their beautiful craftsmanship and excellent design of custom cedar hot tubs.
We revisited the business with Stephen recently to explore some of their hot tub innovations. They offer several standard tubs, along with the option to custom design a hot tub to a customer's specifications.
Deep Water Experience
Most commercially-produced hot tubs are relatively shallow, requiring occupants to fully recline to achieve submersion to the neck. According to Meisner, "our hot tubs are designed to provide a full immersion experience with enough depth to sit upright."
The company currently offers four types of hot tubs, the traditional wood fired tub, conventional tubs and spas (both gas-fired and electric), exercise and therapy tubs and their unique high-efficiency Super-R hot tub model. The tubs are available as free standing units or as deck inserts, and include modern operating controls and may be equipped with jets.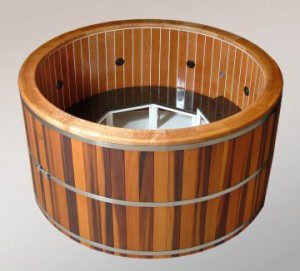 The Meisners tapped into Maine's boatbuilding traditions in developing their cold-molded inner wall hot tub design. The process is borrowed from the great yacht designers in the state to seal wood and resin with high pressure bagging to create a high-quality waterproof inner shell.
The top of the custom cedar hot tub line is the Super R model, which combines a double wall tub with R27 insulation to allow even temperature control and reduce heat loss through the tub walls. These tubs have all the suction, jet piping and controls enclosed within the double walls, so they make a great-looking freestanding hot tub. Super R hot tubs are constructed with a cold-molded inner wall, maple cap rail, and hand-selected red cedar exterior wall. The outside wall is secured by a brushed stainless band to maintain a traditional look. The space between the inner and outer walls is insulated with closed cell foam insulation that makes these tubs very economical to operate. The interiors are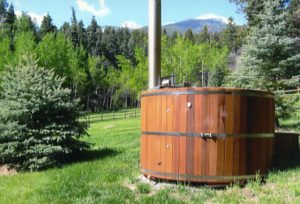 finished with polished granite seating from nearby quarries that are mounted on teak staves.
Standard double wall tubs can be designed with either cold molded or wooded inner walls, and will feature recessed mechanicals but no added insulation. Single wall tubs are the most basic design, and will have an equipment enclosure adjacent to the tub.
Their wood-fired hot tubs are perfect for those locations off the grid, where there is an ample supply of wood, fresh water and the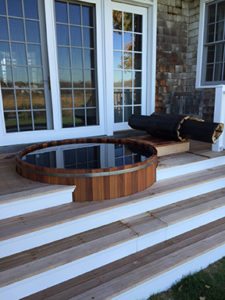 extra time to build and tend the fire prior to use. If you're idea of relaxation is honing fire tending abilities, these wood-fired tubs are the traditionalist way to go.
The biggest growth area for the Meisners has been what Steve calls the "statement hot tub." These are hot tub enthusiasts who want the ultimate in fine woods and design to enhance their experience communing with nature in their hot tub. These custom-designed tubs can take many shapes and sizes, incorporate exotic woods and materials, and be placed in the most amazing settings on earth.
No matter which size or model you select, the company pays particular attention to the finest materials, finishing and craftsmanship available. Each tub is a work of art that will last for many generations!