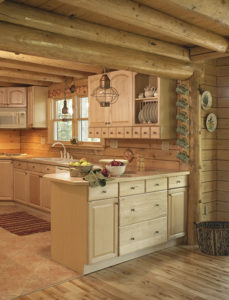 With the affinity for wood that log home fans have, it's always nice to add some custom woodworking to enhance the wood finishes in your Katahdin Cedar Log Home. Here are five ways to incorporate custom woodworking without breaking the bank.
Pick a focal point
Whether it's the mantle over your fireplace or your front door, invest in woodworking flash that will make a statement. Opt for a hand-carved —or chainsaw-carved if rustic is your thing—animal to grace your fireplace area, above your main entrance or as a newel post on your stairs. This work of art will definitely mark your home as uniquely yours.
Work with your contractor for ideas
Contractors build a lot of homes, and they see a lot of great ideas from all types of customers. If you've got something in mind, they'll likely have just the craftsman to bring your idea to fruition. Whether it's some crown molding in the bath or some custom built-ins in the butler's pantry, your builder will have suggestions for getting it down on paper and finding the right subcontractor to create the custom touch.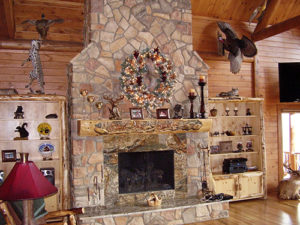 Search the web
Check out the designer websites— Houzz.com, Pinterest and others— to harvest distinctive ideas. Seeing the completed object in place often helps to narrow down options and sharpen focus. You may like the shape of one feature but prefer the finish of another. Having visual examples will help the woodwork designer to develop a custom look to meet your expectations. One thing to remember, your woodworker is an artist and may have suggestions that might alter your original vision. Allowing your artist to follow his or her creative muse can result in a piece that exceeds your dreams.
Consider architectural salvage
If you're not wedded to a specific custom woodwork idea, perhaps shopping architectural salvage or antique dealers will uncover that unique piece for your home. For example, transform a large table or console into the basis for your kitchen island. With salvage, you'll be able to recapture some of the fine woodworking details and unusual woods that will make your custom woodworking piece a unique, yet affordable, statement.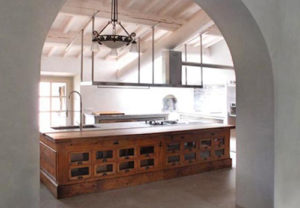 Skip the custom kitchen cabinets & save for the dramatic center point
Todays' stock cabinet companies offer great options and ideas that will make you look like you spent a fortune. If your cabinets are simple in design and specified from a quality stock cabinet company, you'll have room in your budget for a custom fireplace surround or master suite custom woodworking features for more impact.
Whatever the vision you have for your custom woodwork, putting in some time to research options will lead to a dramatic and satisfying result!