Reducing your carbon footprint is one trend that is top of mind for residential builders. Your new Katahdin Cedar Log Home, constructed from sustainable Northern White Cedar, is the first step to start turning the carbon meter back. With the starting point of this sustainable wood building component, homeowners can turn to other elements in the home building system to reduce carbon emitted into the atmosphere. Insulation is a good place to start.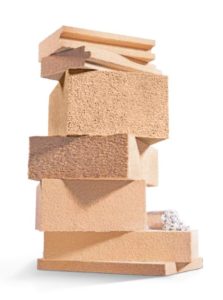 Improving Insulation to Save Energy
It's an equation that homeowners understand well: reduce your energy consumption and you'll save money. Insulation is a key component to a high performance home. Another significant benefit to adding insulation is the reduction of your carbon footprint, a beneficial act to improve the environment, while making your home comfortable. But what if the insulation product itself offered a reduced carbon footprint?
New Insulation Options on the Horizon
The forest products industry in Maine is leading with wood fiber based innovations in construction. We spoke with Matthew O'Malia of GO Lab about his organization's efforts to explore new insulation options. They recently purchased a retired paper mill in Madison, Me., to refit for insulation production. They'll be using the same types of wood products that the former paper plant used but creating a completely different type of product. "It started in 2017 with the question of what do we do with waste wood chips, now that the paper industry has passed by in Maine," O'Malia explained. "We determined that wood fiber based insulation is a product that is compatible with local resources and can provide a competitive alternative to existing insulation products."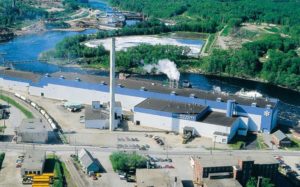 Cellulose insulation made from post-consumer recycled newsprint is currently a popular insulation option, but with the decline of printed newspapers, raw materials were becoming harder to source. Producers of this common insulation were having a hard time keeping up with demand. Ironically, the Madison paper mill soon to become the manufacturing plant for O'Malia's wood fiber insulation was once owned by The New York Times to provide newsprint for their operations.
Three Types of Insulation Products
O'Malia's GO Lab plant will produce three insulation products from raw wood chip material:
Loose fill insulation, similar to blown-in cellulose insulation currently on the market
Batt insulation, for use in between studs in traditional construction in place of fiberglass batts.
Fiber board insulation, similar to icynene or rigid foam boards, which could be utilized in Katahdin's Energy Envelope System.
Both the loose fill and batt insulation will be treated with borate and fire retardant as required; the fiber board contains fire retardant adhesive and so will only be treated with borate. These insulation materials integrate well with wood building science as they match performance of wood based structures to manage moisture and temperature changes.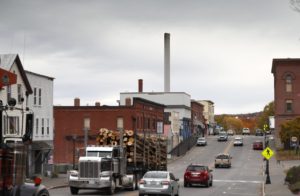 Rebuilding Community
One of the most inspiring aspects of this new venture is the revitalization of a community that had been built around the paper mill in Madison. O'Malia has been able to tap into the existing production expertise in the town. "The people who ran the former paper mill were so capable." O'Malia explained. "Absentee owners had little vested in Madison. We're focusing on working with the surrounding community to revitalize the plant with local ownership." O'Malia notes that currently they are in the planning stages of refitting the mill for the new products and hope to begin producing loose fill and batts in early 2021. The wood fiber insulation boards will follow shortly thereafter.