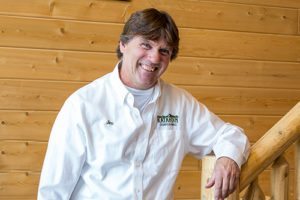 Because Katahdin Cedar Log Homes' headquarters is based in a snowy northern climate, we've always paid extra attention to how your log home interacts with snow. Our Katahdin in-house team designs our unique purlin roof systems for each customer's specific location. We spoke with Jim Lyons, Vice President – Design and Engineering about the relationship between snow loads and roof design.
Location is Essential
Lyons' experience with log home designs have been put through one of the toughest testing grounds for structures. This year alone, some areas of Maine's Aroostook County have tallied 140 inches of snow. Granted that doesn't fall all at once, but a good-sized snowfall can become very heavy, very quickly. That's the reason for the early questions about your building site location— so that your snow load can be calculated. Both snowfall records and elevation above sea level are considered in this stage of design.
Using a website-based database from the Applied Technology Council (ATC), the snow load recommendations for specific locations can be found. According to its website, the Applied Technology Council (ATC) is a nonprofit, tax-exempt corporation established in 1973 through the efforts of the Structural Engineers Association of California. ATC's mission is to develop and promote state-of-the-art, user-friendly engineering resources and applications for use in mitigating the effects of natural and other hazards on the built environment.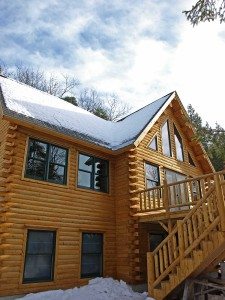 Applying Data to Design
Using the data from ATC's Hazards by Location website, Lyons can design the roof system to meet the snow load recommendations for your home site. Using a combination of span length, pitch and purlin size, the roof system for your Katahdin Cedar Log Home's location can be finalized. Sometimes, depending on the home design, a combination of purlins, and laminated beams will be used to accommodate extended span lengths or high load demands.
Other Design Factors
The snow load information is important, but there are other considerations for designing a roof system that will handle snow well. Here's where Lyons' experience and Katahdin's wealth of built and proven plans comes in. There's a reason why many alpine chalets use the traditional A-frame design—snow will slide down the roof and leave a clean surface in most cases. Contemporary log home design includes dormers, porches, and other architectural features that look beautiful, but may affect how well your home handles the snow. Valleys created by the intersection of two roof lines, multiple dormers and shed roofs will need extra attention with ice and water shielding.
Insulation Plays a Role
Many wintertime roof issues result from poor or uneven insulation, poor sealing and inadequate ventilation. Katahdin log home designs include highly insulated roof systems to meet local code, as well as a ridgeline roof venting system to allow for proper air flow to avoid hot spots. Katahdin's purlin log roof systems can be designed to avoid the "pass through" construction problems. With this design, purlins would terminate at the log wall, with aesthetic extensions attached on the exterior under the roof overhang. This  allows for superb sealing and improved durability over time.
Where Will the Snow Go?
Another design factor to consider in snowy climates is where the snow from roof areas will go when it falls. This is especially important if your log home is finished with a metal roof instead of traditional shingles. As snow begins to melt on metal roofs, it can cascade off the roof quickly, creating a mini avalanche. If your home plan has a deck, porch or stairs in the path of roof snow, it can quickly become a problem during winter. Placing smaller peaks over entrances or snow guards along longer stretches of roof can redirect snow and defend against these metal roof snow dumps. It may be prudent to position shrubs and trees outside of a "snow perimeter" to protect them from damage.
Accessible Shallow Pitch Roofs
If your log home design includes a shallow pitched area, you may want to make sure it's accessible for roof raking. Our experience is that roof raking from the ground is less hazardous than from an extension ladder. If your roof is difficult to reach, you'll want to hire a professional to clear your roof of excess snow in the winter. Often, tree services supplement their slow times by offering roof shoveling.