Walk into any home these days, and you'll be able to spot at least one device— smartphone or tablet— charging or a curling iron taking up valuable bathroom counter space. Docking Drawers offer a safe and easy way to tuck all these electrical devices out of sight with complete charging or powering capabilities.
How Do Docking Drawers Work?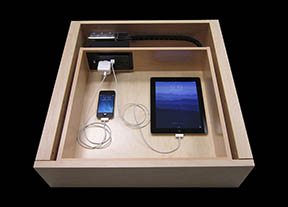 The company has developed charging outlets and powering outlets that are designed to be housed inside a drawer. The de-cluttering idea is a great way to take care of keeping your devices charged as well as organizing, powering and stowing small electric appliances. The design places an electrical outlet on the back wall of a drawer, where multiple devices can be plugged in. The wiring arm and assembly folds away in the space behind the back wall of the drawer, so you'll need to size your cabinet or vanity drawer to accommodate the equipment. In an existing drawer, Dock Drawer offers a retrofit panel and plenty of helpful installation instructions.
Clutter–free Kitchen Counters
In kitchens, the convenience outlets are generally arranged around the countertops to accommodate the small electric appliances when in use. They become a magnet for smartphone and tablet recharging because of their accessibility and adjacent surface— so much better than setting them on the floor! When a designated Docking Drawer is created with a Charging Outlet, up to four devices from smart phones to laptops can be charged at once. The charging outlets feature UL listed circuit breakers that limit output to 3 amps to prevent high power devices from being used to minimize risk and provide safe operation.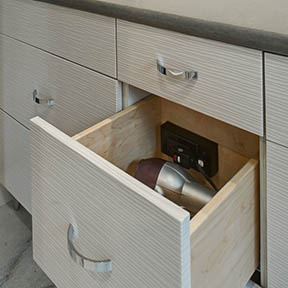 Power Up and Stow Away
Docking Drawers' Powering Outlets provide power and safety for use primarily in bathrooms, but can also function effortlessly for hobby rooms or workshops. The Powering Outlets feature 20 amps, GFCI tamper resistant outlets that include an integrated thermostat that cuts power if the surrounding temperature exceeds 120 degrees. Just think of the space on your bath vanity, work bench or crafting table that could be opened up!
Clever Combinations
With some clever additions to the interior of drawers, your electrical items can become even more accessible and organized. Heat resistant cups act like a holster for blow dryers and other additions can organize the drawer to hold combs and brushes. Drawer spacer units can help organize tech accessories like camera attachments, arm bands, earbuds and cases.
The essential takeaway is that Docking Drawers offer a well-tested and safe in-drawer electrical option to keep everyone in your family organized!