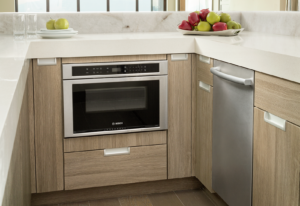 Microwave ovens have come a long way since the over-the-stove-combo exhaust fan and microwave.  Today's top-end kitchens feature high-BTU stovetops and a wimpy microwave exhaust fan just doesn't work. So, where to locate the microwave? A great solution for many custom kitchens is a drawer microwave.
Sleek Kitchen Designs
Your new Katahdin Cedar Log Home kitchen will likely be the most efficient you've ever cooked in. And, one of the features of a modern chef's retreat is plenty of prep space on countertops. That's why the microwave drawer is such a great solution for any sized kitchen. Early designs were bulky and extended out from the cabinet space. Newer designs are sleek and stylish, designed to blend seamlessly with your other kitchen appliances. Most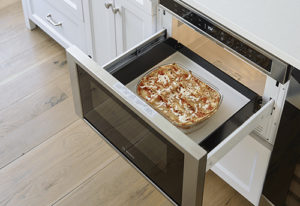 designs fit flush inside cabinets.
Two Common Locations
Many homeowners locate their microwave drawers in the central island, close to the refrigerator. You'll want to include careful clearance measurements of the fully extended drawer microwave to ensure there's plenty of clearance. A second location for many home chefs is below a wall oven. Appliance suites offer complementary designs for ovens, microwave drawers and other appliances such as warming drawers.
Two Sizes, Same Capacity
Bosch is among several manufacturers that offer 24-inch and 30-inch drawers. Each has a similar one cubic foot capacity — a 4-quart casserole dish is an example. The determining factor seems to be matching the width of the wall oven installed over the drawer to match dimensions for a similar appearance.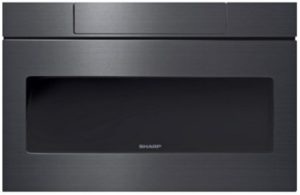 Finish Options and Opening Ease
For sheer elegance,  one microwave drawer from Sharp offers either stainless or black stainless finishes. The controls are tucked away in a tilt-out port with easy-to-read output. The latest model features an "Easy Touch" automatic drawer opening system that opens with a gentle pull or touch of a button. Nudge gently and the drawer smoothly closes. For even easier opening convenience, check out the "Easy Wave Open" Microwave Drawer that senses up and down hand motions to open. It's smart enough to keep children or pets from accidentally opening the appliance.